Cross-selling and up-selling – what is the difference and how to put these strategies into practice
Today we will start with a riddle – which one short question have brought McDonald's $200 million a year?
Maybe it was a question about sales optimization asked by the growth hacking genius during a management meeting? Or maybe an exceptionally brilliant accountant found a fantastic way to reduce costs? What is the question worth $200 million a year?
It sounds… attention…
"Do you want fries with that?"
Today we'll talk about up- and cross-selling.
You will find out from the article:
What is cross-selling;
What is up-selling;
What are the differences;
What are cross-selling and up-selling strategies;
Which companies do it well;
What to watch out for.
Cross-selling and up-selling – what are the differences?
Cross-selling is offering the customer products that are a good complement to the one he has already chosen.
Example? A customer who has added a winter cap to his basket is also likely to be interested in buying a scarf and gloves, especially if he is rewarded with a discount for the whole set.
Up-selling means proposing to buy a more expensive version of a selected product, e.g. made of a better material, having more functionality, etc.
Here again we can quote an example of McDonald's network, whose customers are often offered the possibility of e.g. buying a larger drink at a slightly higher price.
Now you know what is the difference between up-selling and cross-selling. Both of this techniques sound good, right? Now let's talk about how to get started.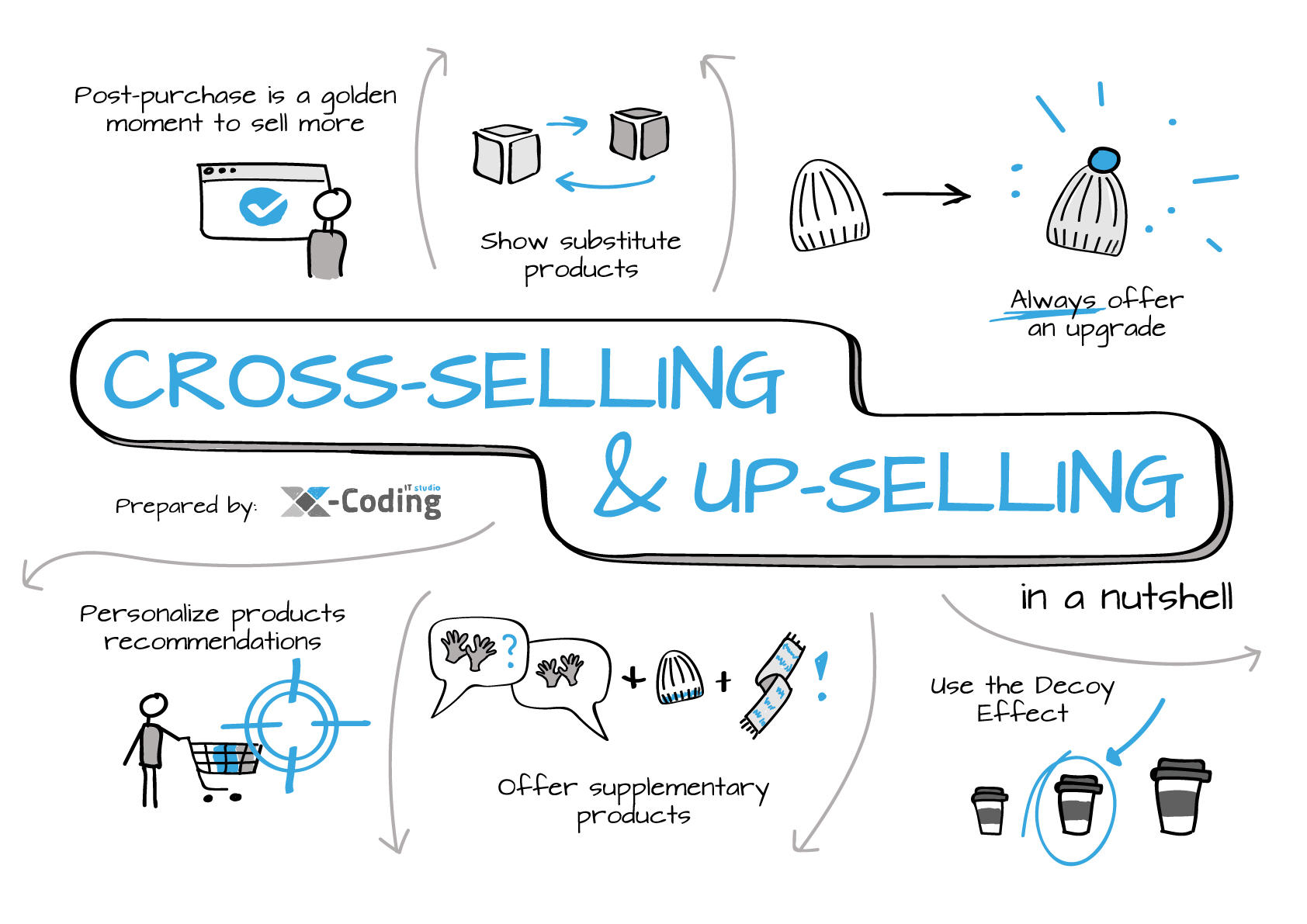 Configuration
Usually, as a salesman, we double and troublesome to personalize cross- and up-selling proposals. What if I tell you that you can transfer the process to the customer?
All you have to do is offer a good product configurator. The next steps in the form of adding interesting functionalities will be done by the customer himself. Best of all, the result of the configuration will be a perfectly personalized proposal, because it is prepared by the one who finally reaches for his wallet.
Brilliant in its simplicity.
If you want to learn more about configurators, take a look at our article "Product configurator – does your company need it?". You will find tips on how to implement the configurator that your customers will love and examples of companies that have already done so.
Decoy Effect
Decoy Effect is a purposeful addition of a third purchase option to enhance the appeal of one, which makes it more attractive than others. Example? Let's assume that a small coffee costs 3 EUR and a large one 3,90 EUR. You can hesitate. Now let's add a third option to that – average coffee for 3,45 EUR – and the probability that the customer will reach for the most expensive offer (only 0,45 EUR more expensive than the average) is growing.
Cheaper in the set
Sometimes the customer does not feel the need to buy the whole set, but is convinced by the prospect of additional profits. Cross-selling will be even more effective if you encourage people to buy additional products with an added benefit. You can simply lower the price or offer free shipping.
Products that may be interesting to you…
The bookmark named in this way presents the customer with products supplementing his choice (cross-selling) or those of higher quality (up-selling). It is a popular solution used by many online shops. Sometimes it also appears as "Others have viewed/bought too".
Interestingly, this tactic can be used not only in sales, but also to increase blog traffic.
Do you recognize that? ?

Additional services
Cross-selling is not always about adding another product to the customer's cart. You don't always have to offer anything tangible at all! Sometimes when you sell a product you can offer the customer a complimentary service. Such an example would be a proposal to configure new electronic equipment for a small fee or a small tailoring service when buying clothes in a boutique.
Recommendation engines
If you want to reduce your cross-selling and up-selling efforts to a minimum, you can reach for ready-made recommendation engines.
This is a good solution for companies that lack time to develop and implement up/cross-selling tactics on their own.
Don't do that!
Don't push it too hard – Enough is enough ? Every marketer should know about it. Push notifications and hard to close windows will discourage more than encourage your potential customers;
Don't encourage people to spend more than 25% of their order value – Above this amount, an additional product appears to be a new purchase, not an extension of an existing transaction;
Don't treat the customer as an idiot – Instead of talking directly about the benefits of buying a more expensive/next product, let the customer calculate for himself whether it's worth it. The absolute master of this strategy is Red Dress Boutique. In the next part of the article you will see what I mean;
Don't propose too much at once – Too much choice can distract you and make you go back to comparing different options instead of spending more – and that can even lead to competition.
Examples of the brilliant use of cross- and up-selling
Red Dress Boutique
They're real cross-selling masters. From the home page, they show complete outfit (also from Instagram), which you just need to click to get access to the cards of all the products used in the photo:
The boutique does not stop at this stage, but also helps to complete the look with recommendations on the product card:
McDonald's
"Do you want fries with that?" – As you already know, this one short question brings McDonald's as much as $200 million a year.
And it's not over!
Employees ask customers if they want to change a drink for the biggest one. A total of 69 million customers are asked to make a larger purchase every day. And although not everyone takes advantage of the offer, McDonald's ultimately earns a lot more than that.
Ikea
At the moment of adding the product to the cart, Ikea offers its supplementation. What is important, it is fully personalized. For example, when a quilt cover and pillowcase are placed in a shopping cart, the shop offers a matching pillow and more.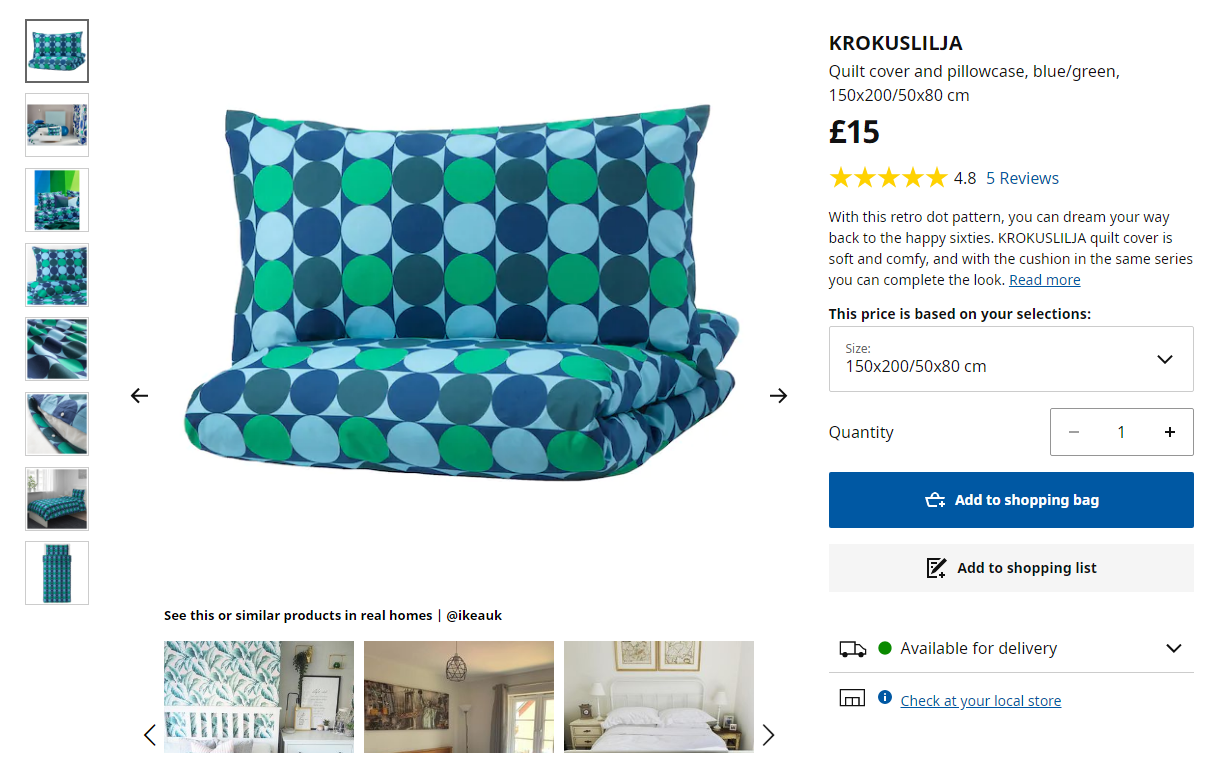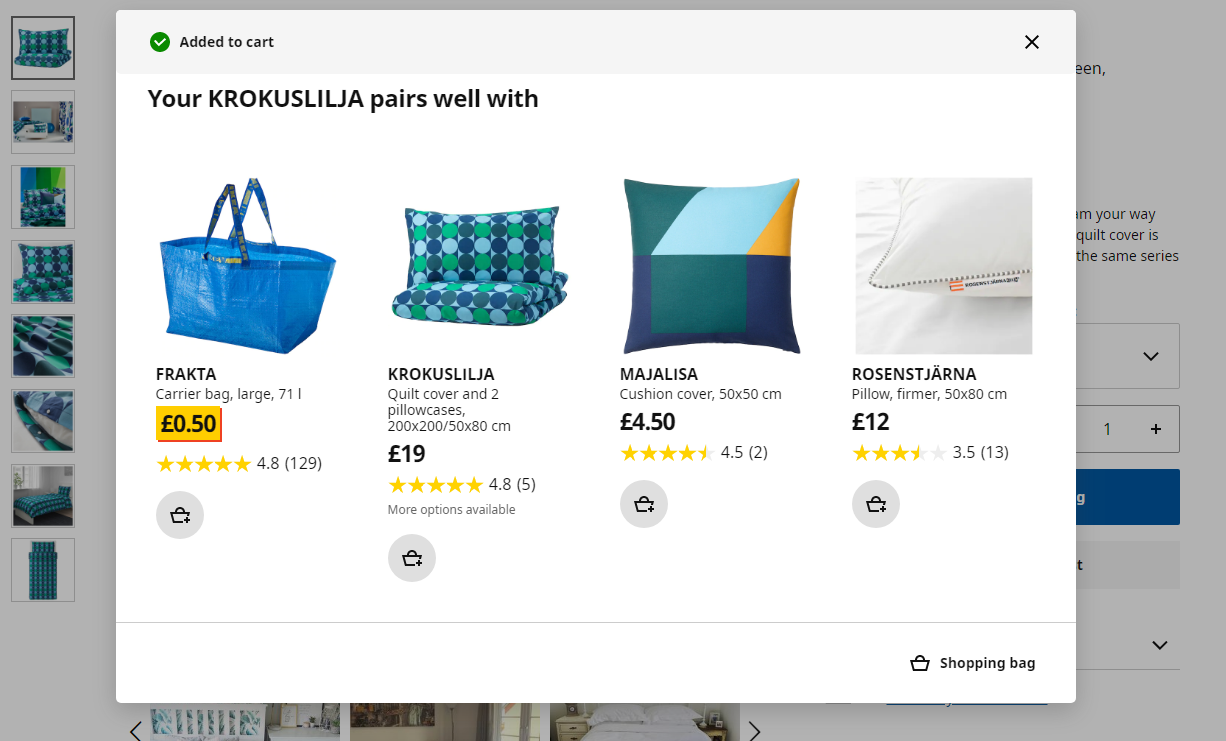 Summary
Cross-selling and up-selling are two different techniques, but both have the same goal – to increase the value of your order. Remember:
Always keep the customer in mind, which means offering what really brings value to the customer;
Don't be a stalker! Omnipresent recommendations are more likely to deter than to encourage the consumer.
Without losing sight of these two points, you can do exactly what you want. Will you offer additional products after adding them to your shopping cart, or maybe only after you've completed your order? Will you invest in a product configurator, or is it enough for you to have a recommendation engine? You are limited only by your imagination and the preferences of your customers.
Good luck!