How to increase the visibility of an online store by yourself?
What can I do to optimize my online store on my own? Where to start? What to focus on? — These questions are asked by many online store owners. Most often they are people who start their adventure with e-Commerce, launch a new store or small business owners whose budget does not allow them to start permanent cooperation with a SEO specialist.
Get into the role of the owner of a completely new, small online store. In such a situation, cooperation with an agency or freelancer should be treated as an investment. For about the first 3 months Google will be gaining trust in your new website. After this time, a properly conducted SEO process usually brings noticeable effects — the visibility of the website in Google starts to increase. After about six months, organic traffic would increase, which would generate sales only in the following months. Unfortunately, not everyone can afford such an investment and financing of SEO activities before the conversions appear.
This does not mean that SEO activities should be completely resigned from. When running an online store, organic traffic should not be ignored, because it is a great way to attract new customers. Websites located high in the search engine enjoy the great trust of users. Appearing in Google you are working on increasing the shop's recognition.
Google has the greatest range to reach users — in other words, this is where most of your potential customers will find you. It is used by 92% of Internet users. No other search engine on the Polish market is so popular. Other portals or price comparison engines have no chance to compare with it in terms of reaching users.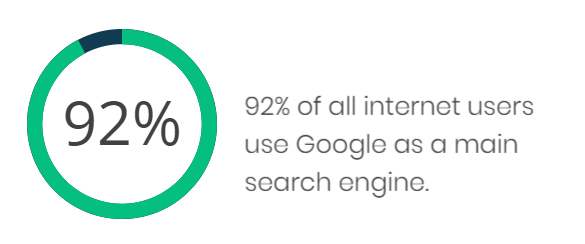 Google Search statistics
You know it's not worth giving up on SEO. Now you're probably wondering how much it will cost you. The answer is 100% up to you. You can run SEO activities completely by yourself, but it will take a lot of time. As they say "time is money". — Your individual decision is whether you want to act on your own, outsource some work (e.g. copywriting, development work) or decide to start permanent cooperation and sign a contract with a professional agency.
Where do I start? What tools will I need and what information should I collect?
Analytical tools
You will be interested in the results when making changes to the website — it is not worth to rely on subjective feelings such as "I have few orders, so traffic does not grow", because it may turn out that traffic is growing, but something discourages users from buying on the website itself.
That's why your first step should be to configure analytical tools — gather and analyze correct traffic data. You can use Google Analytics to do this. Don't forget about measuring conversions. Some systems have the ability to transfer such data to Google Analytics by default, some require a plug-in or module to be installed, but unfortunately in some systems measuring conversion will require development work. However, it is worth to do it at the beginning of the store's existence, that you can later rely on complete historical data.
The second important analytical tool is Google Search Console. It should be verified for the whole domain or for individual protocols (http/https, www/without www). Thanks to this tool you will get information about whether your website is displayed in Google, if it appears there more and more often and if users are switching to it. Search Console is dedicated exclusively to organic traffic from Google. You will also find there information about the most popular phrases for your website, indexation status or errors.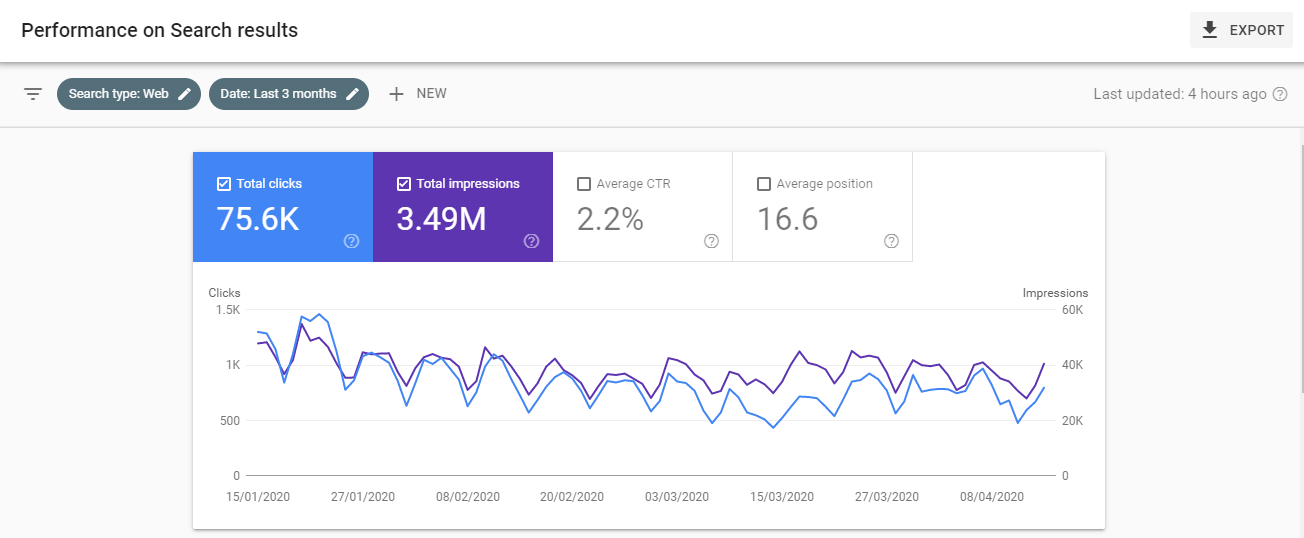 Google Search Console informs about the number of page views in Google and page views from the search engine.
Keyword analysis — put on long-tail keywords
As an owner you know your business and your products — think about how you want to promote them in search results. Think about what your website should stand out from the competition. Already know that? If so, great! Now think about it: as a potential user, how would you search your shop. Determine whether you are an "online pet shop", a "low-cost clothing shop" or whether you offer "exclusive living room furniture". Select a priority assortment and choose the right keywords for it in a similar way — identify the differentiators and think about what you would type in Google when looking for such a product.
Remember that in most cases, short keywords are very difficult to position — they require a lot of time and work, and often also costs. However, they are ungrateful, because they often do not convert into sales. They generate general traffic and bring users looking for information, or they are uncertain about what particular product they are looking for. Short keywords have a second disadvantage — they are imprecise. For example, the phrase "board" can mean: wood board, snowboard, cutting board, ironing board etc.
Bet on the long-tail keywords that have a few words, such as "glass hanging lamp", "black flower dress" or "ecological dishwasher tablets". If you have more technical articles on offer, your phrases should also include product phrases containing a specific model, e.g. "radio jvc kw r520", "brother dcp l2512d toner".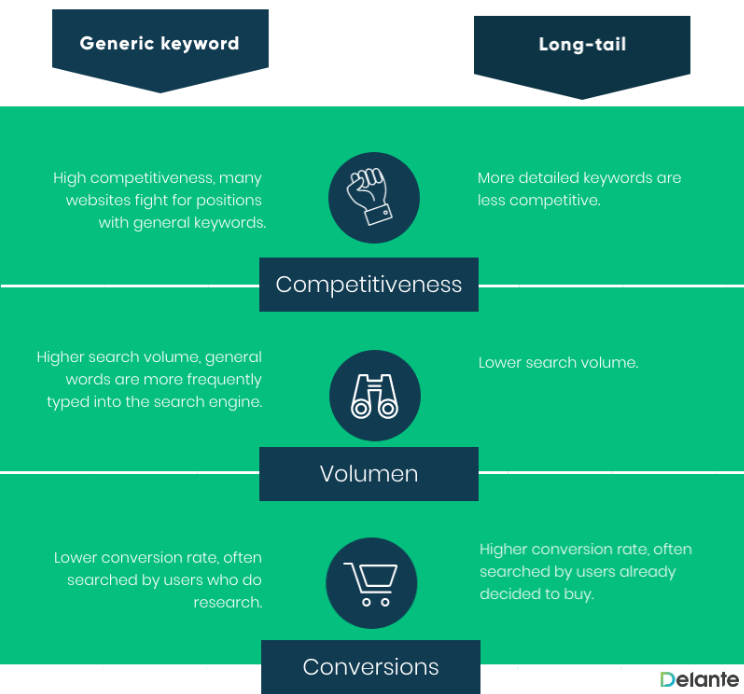 Generic keywords vs. long-tail
Check the site with external tools — perform a quick site audit
An audit performed by a specialist shows the elements on which priority you should be focused. However, if your budget is limited, use free tools like Woorank or Seoptimer. They check the basic elements of SEO:
Can the page be indexed?
What does it look like on Google?
What elements are worth working on?
Check the page loading time, e.g. in PageSpeed Insights. Don't let your website run too slowly. If it charges for at least a few seconds, users can leave it. Remember that for Google this is also one of the ranking factors.
Visit your website from your mobile device and see if you can place an order and there are no items that might discourage users. The site should be responsive or have a dedicated mobile version. Make sure that the content displayed on your computer is also available on mobile devices. Currently, Google ranks websites on the basis of the mobile website.
What's the focus? What SEO activities can I do myself?
If I were to select the most important elements that affect SEO, it would be:
content,
the appearance of the page in the search results,
whether the site is user-friendly (not to be confused with UX),
links.
Content — mainly unique and valuable for users
Do not copy content from manufacturers or competitors. Create unique, custom descriptions.
Imagine that 5 stores sell a particular product online, of which 4 copied the description from the manufacturer and the fifth created their own valuable text — which one do you think has the best chance of being higher in the search results?
Place the text on the homepage where you present your company and the most important assortment. Add descriptions on the category pages, which will indicate the most popular products and offer distinguishing features. If you have manufacturers' websites, create similar content for them too. Do not forget about product descriptions — include product name, manufacturer, product type (what is it), distinguishing features (color, size, design, material, other features important for the user). Try to answer all your doubts in this content.
You offer natural cosmetics? Present their composition and features.
Do you offer batteries for cars? Specify to which specific models it fits.
Do you sell clothes? Describe the fabric, pattern, write how it should be washed, what it fits to, show the size.
Put yourself in the role of a user interested in the product and think about what information he would look for in the description.
An additional source of organic traffic can be a blog. It is worthwhile to publish a few posts per month on the related topics. Do not describe a specific product, manufacturer or category — there is space for them on dedicated pages. The blog should be treated as a guide, in which we respond to the doubts of potential customers, publish lists, rankings, analyses, inspirations or recipes.
Sample topics for shops from different industries:
Sports shop, e.g. What kind of exercises for a flat belly to do?
Cosmetic store, e.g. acne skin care — the 5 most common mistakes.
Computer shop, e.g. Ranking of laptops up to 3000 PLN.
Running an industry blog will increase the number of keywords on which your website will be displayed (mainly long-tail). Additionally, by properly linking to related products you will improve your internal linking structure.
The Answer The Public tool can help you to choose topics for your blog.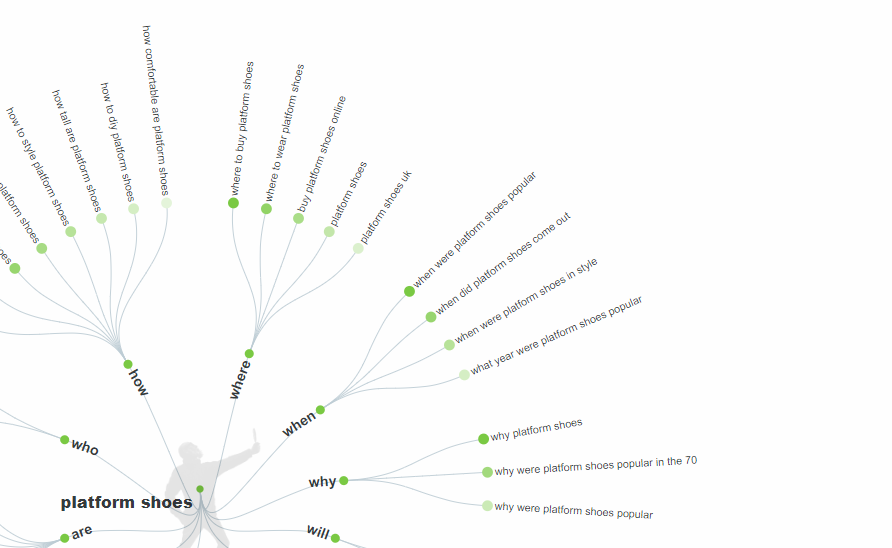 The Answer The Public tool shows what questions users ask in the search engine.
The appearance of the page in the search results — what should you pay attention to?
Absolutely basic elements in terms of page optimizing are title (page title) and meta description.
The title has a great influence on the position of the page in search results, so it is worth to include the most important keyword for a given page. The length of the title of the page should not exceed 70 characters, and the most important phrase I suggest putting at the beginning.
Meta description, on the other hand, has a major impact on clickability. It has a slight significance in the ranking of the page itself. Include in it the most important information about the product and try to encourage the user to enter — you can use the so-called CTA here, e.g. "Come on!", "Check the offer!". The length of the meta description should not exceed 150 characters.
It is worth introducing symbols and emotions to these elements as they attract users' attention.
You can also get acquainted with the topic of rich snippets and structural data, as they can help you display more information in Google, e.g. price or product availability.
Also, pay attention to product naming. For the user, your internal product designations and identifiers will not be valuable, so you don't have to include them in the product name. The product name should tell you quite precisely what the product is. In most cases, it is recommended to include the type of product (men's sports t-shirt), the manufacturer (Nike), the specific model (Sportswear DA0676-410) and the distinguishing marks (navy blue, short sleeve). Why should you pay attention to the construction of product names? In most systems, it is automatically placed in elements such as page title, H1 header, or product URL — all of which are factors that influence positions.
Is the website user-friendly?
In a nutshell, most of the SEO activities on the site comes down to improving the user experience. Don't over-saturation the page with keywords by adding them in each sentence — take care of naturalness. Enter a logical category structure that is easy to navigate. Add valuable content to give the user a chance to get to know the products on offer as well as possible. Remember that a dissatisfied user will leave your site anyway, so make sure it is friendly for him/her beforehand.
Link building — does it still work and are you able to do it yourself?
Definitely, link building still works and it is worth to obtain links from external sites that lead to your shop. This is an important area of SEO activities and perfectly matches the activities conducted on the site.
And here is the question: to buy links or not? There are many offers of link packages "for 50 PLN" on the web. This topic should be approached with caution. If it is a few unique and valuable links — you can consider such an offer. However, if you are completely unsure what links will be created — do not take any risk. The correctness, or more precisely the naturalness, of the link profile is very important. Therefore, links should appear from different channels and the content should be unique.
Of course, site parameters (e.g. DR, UR, DA, PA, Topical Authority) or traffic will also be important. Be careful when buying link packs — they often include links from profiles or special created forums, which in the long term may result in a penalty / filtration on your website via Google.
Can you do link building yourself?
Of course, you can! Some link building activities are worth doing on your own even in cooperation with a SEO specialist — in such a situation it is worth discussing them together. The absolute basis are profiles in Social Media — create them in the most popular portals for your industry, such as Facebook, Twitter or Pinterest. Place a link to the home page of your online store in your profiles. In posts, also try to add a link to your website, but remember that it can also lead to a category, product or blogpost page — choose the page best suited to the published content. Make sure that your posts are interesting for users, also add photos that will make the content more visually attractive. Remember — be active! Publish at least once a week.
If you have business partners, you can also ask them to add a link to your shop with them.
If you have a budget for link building, consider ordering paid articles, e.g. through the Link house platform or by establishing personal cooperation with specific portals.
And that is all?
Remember to check the effects of your actions. If they do not bring any results or you observe drops, consider changing your strategy — maybe your website needs a different kind of actions at this point.
The elements presented above are ideas for independent positioning of the online store. Apart from them, you can perform a whole range of other actions, e.g. changing the structure of headers, inputing/changing structural data, analyzing the structure of URLs, creating a map of the site, extending internal linking, extending link building actions. Positioning an online store on your own you have to develop not only your store but also yourself, gaining constantly new knowledge and following the news from the world of SEO 😉
If you have doubts about positioning your shop, remember that some agencies/freelancers offer SEO consultations. They do not require long-term cooperation — they are treated as a one-time service. Specialist advice will certainly help you to get the site "on the right track".
Author: Klaudia Feliksik, SEO Specialist in Delante. She provides services to customers from various industries, both Polish and foreign. Klaudia conducts internal technical trainings for employees. Privately, a fan of conquering new mountain peaks.