MVP in e-Commerce – what is it and how to implement it?
More and more entrepreneurs decide to divide the implementation of the online store into several stages, starting with the MVP (Minimum Viable Product) version. It saves time and money, shortens Time To Market and collects end-user feedback about the store.
From the article you'll find out:
What is MVP;
What are the advantages of MVP;
What's the risk of missing an MVP in a project;
How to implement MVP in e-Commerce step by step.
What is the threat of lacking MVP
You are planning to implement e-Commerce. In your head, you already have a complete vision of what your shop will look like. For users, you have planned a huge amount of great functionalites and you can't wait until the administration panel will start to appear hundreds of orders per day. Surely there will be hundreds of them – after all, you've planned everything carefully!
Stop.
Before you proceed to the implementation of your plans, confront them with reality. Perhaps your vision will actually meet the expectations of users and as a result, you will achieve great success. But what if not? You will waste the money and the time. What's worse, you will have to find new resources and time to fix your bugs.
In our experience, the truth usually lies somewhere in the middle. Probably some of your ideas are good, others need to be modified, and others won't work at all.
Instead of spending time and money on implementing all of them, start with MVP. This will allow you to optimize your implementation costs and gain valuable feedback from the market.
MVP – what's that?
MVP stands for Minimum Viable Product. We are talking about a product presenting the minimum value necessary to present it to the target group.
In the case of e-Commerce will be necessary e.g. the possibility to make a purchase. It is because of that the shop can fulfil its most important function – to sell.
Newsletter and integration with tools used to help with carts abandonment are not necessary for this – and perhaps not necessarily must be in the MVP version.
Do you understand now what I'm talking about?
Some people confuse MVP with the beta version of the store. Others think that MVPs are all projects that are not complete yet but already have been published . Both groups are wrong.
In the case of MVP, the keyword is "Viable". Shop at the start of the MVP version must carry with it a value for the user. In practice, it boils down to offering the consumer the possibility of using the shop's basic functionalities and collecting feedback from him about them.
MVP is, therefore, something that is already valuable, but not complete.
Advantages of MVP
Entrepreneurs decide to implement MVP for several reasons:
Verifying ideas – A vision that has not yet been implemented is safe in your head. You might think it is perfect. As soon as you release your idea the market will verify if it was an excellent one. MVP will make this verification faster and allow you to draw conclusions. Unfortunately, you probably won't like all of them. Does it sound brutal? Surely less than finding out after several months of implementation that the assumptions were wrong;
Cost optimization – Instead of wasting money, you will learn which ideas are worth investing in. Here, the agency has room to show off. A good implementation company will provide advice on the further development of the store;
Feedback – If you enable the first customers to express their opinions about the store (e.g. by means of an out-of-purchase survey), you will gain not only information on what is worth working on but also suggestions on how to develop your e-Commerce and what functionalities may be useful;
Faster return on investment – We can talk about the profits only after the launch of e-Commerce. Making the MVP version available to customers, you faster enable them to make purchases, and the store starts to earn money;
Reduced implementation time – After collecting feedback from the market, some of the needs you wanted to meet will fall off, potentially shortening the implementation time (unless they are replaced by new, equally time-consuming ones).
Faster Time To Market – Your shop will see the light of day faster, it will start to accumulate traffic to your website and potential regular customers. You will also start building the brand image and its recognition. (By the way, you'll need a brand communication strategy for that. You can find out more about it in our article).
Implementation of the MVP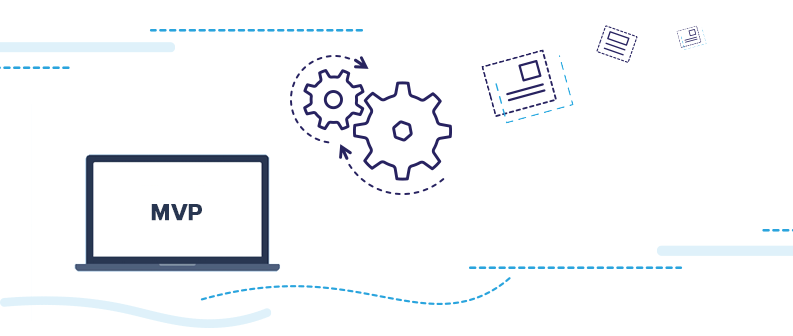 Implementation – Analysis – Modifications
If you regularly visit our blog, you will know that in most cases the answer to the question "How?" is "It depends". MVP implementation is also an individual matter. Your industry, sector (B2B, B2C), target group and development plans play a big role. However, all MVP implementations have one thing in common – it is worth putting the main product assumption first. The task of the online shop is to sell. So:
In the beginning, we implement basic functionalities that make it possible;
Then we develop e-Commerce considering whether the new solutions will improve sales. The whole process can be described as implementation – analysis (collecting feedback from the market) – modifications (adding new functionalities, optimizing or removing those that do not work as they should).
MVP on examples
Okay, but how do we get on with it? Think about it first:
Focusing ux/design on the shopping path – a shop should always work perfectly and look good. At first, however, you can focus your efforts on the shopping path, and only then personalize other subpages;
Just the necessary integrations – The number of orders in the new shop is unlikely to be impressive at first glance. It is worth considering whether to speed up the implementation in this context at the expense of full integration;
First B2C, then B2B (or vice versa) – If you are active in both sectors, it is worth considering MVP implementation for only one target group. This way, some customers will be able to use the shop while you are implementing solutions for the rest;
Form instead of the configurator – Implementing an extended configurator is a time-consuming task (learn more here). If you are not sure whether your customers are interested in personalized products, start by giving them this option using the form, instead of implementing the configurator immediately.
How to collect feedback
Individual calls – especially in the case of B2B. You can ask customers what they think about the new platform over the phone or meet them in person;
Questionnaire – You can conduct it e.g. after the purchase process is finished, asking the customer what made it difficult and what functionalities were missing;
Mail, telephone – Channels through which customers contact you are a good source of information about their feelings. Make your Customer Service team aware that they should let you know about feedback;
LiveChat – Many customers will choose to contact you by email or phone and write in a chat to choose the latter. Follow the news from the company chat to find out about possible problems in the shopping path;
Google Analytics – in GA you can track, among other things, the effectiveness of sales, transactions and time of purchase;
Tools tracking user behaviour – In addition to Google Analytics, you can also invest in other analytical tools, such as those providing heat maps, showing the clickability of individual elements or recording traffic on the website. Thanks to this, you can discover, for example, that it is not worthwhile to pamper the main page, because the users find their way from the search engine straight to the product card.
Summary
MVP enables you to start selling online faster, cheaper and, above all, with your head. It is worth to consider this way of implementation and instead of accusing users of many sophisticated functionalities at the beginning, focus on what is most important in the store – sales. Good luck!