Omnichannel, a customer in the centre
In times of expansion of new sales channels and growing ROPO effect (but also reversed ROPO), omnichannel is the key to the good customer experience. What is omnichannel (and above all – what is not) and how to implement this idea in a company?
Omnichannel versus multichannel
In order to answer the question of what omnichannel is, it is worth considering what it is not. First of all – omnichannel is not the same as multi-channel. If you have an online store, an offline point, profiles on Amazon and eBay, but each of these channels is a different story, then you have multichannel, not omnichannel.
What is the difference between those two concepts?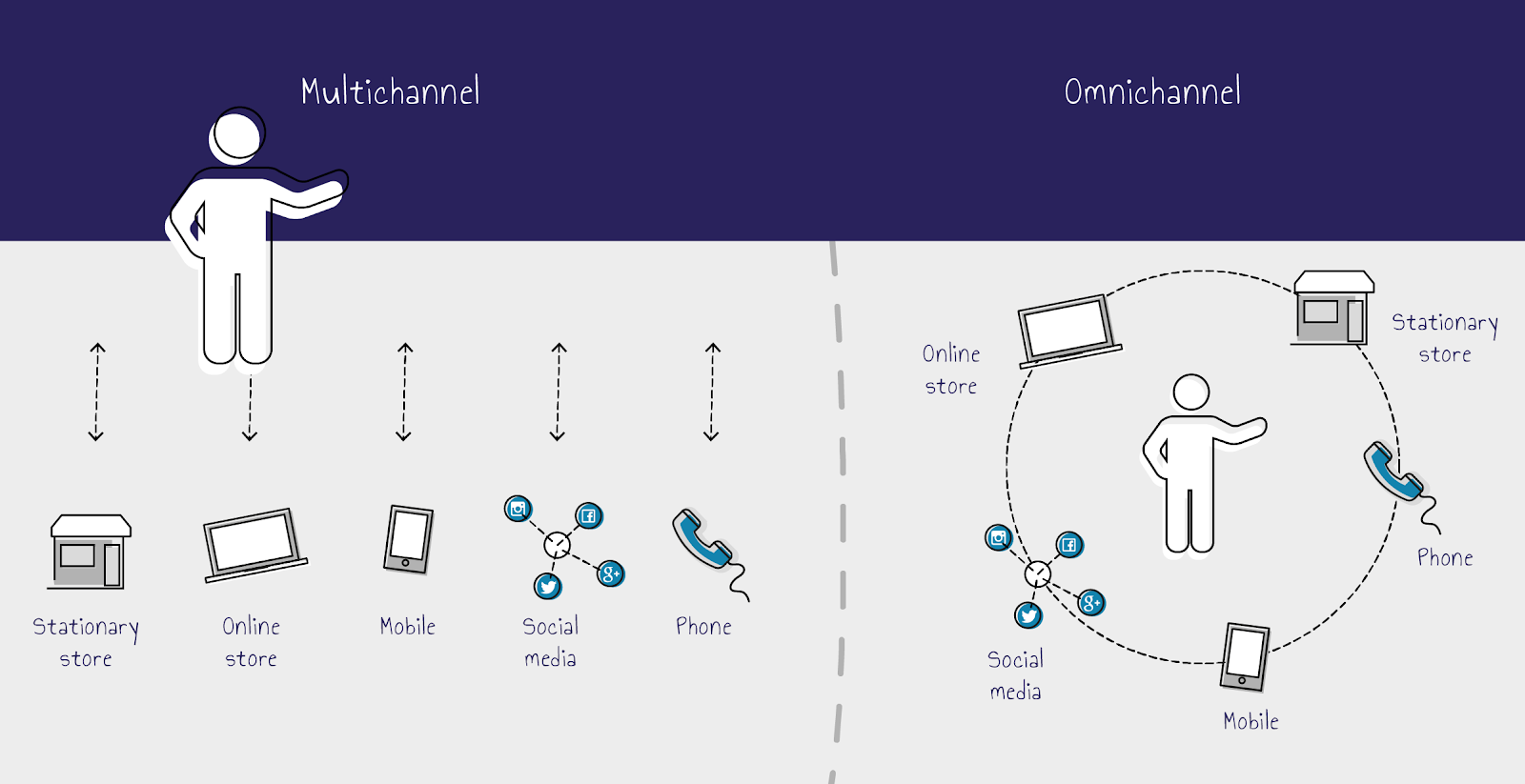 Multichannel is literally a multi-channel sale, i.e. offering customers the possibility to buy products through different channels – online store, brick, and mortar store, through online auctions, social media (Facebook, Instagram), etc.
Omnichannel is a customer-focused sales approach. It assumes that it is in the center and a vendor is supposed to provide him/her with a consistent experience, regardless of the channel in which the contact takes place. This means an equal pricing policy for each channel, same promotions, terms of delivery, returns, and so on.
As you can see, multichannel and omnichannel are a bit like with rectangles and squares. Every square is a rectangle, but not every rectangle is a square – every omnichannel vendor also has multichannel, but not every multi-channel vendor provides their customers with omnichannel.
Why is it so important?
Omnichannel improves the performance of an entire company, making it easier for departments to provide customers with a consistent and positive brand experience.
Omnichannel makes it easier for sales departments to manage prices and offers. Consistent pricing policy is much simpler to control than extensive price lists that are different for each channel.
Omnichannel also supports marketing. Consistent communication across all channels helps to maintain a uniform corporate image. This translates directly into increased customer trust, and it – and here we return to sales – affects the frequency of their purchases and willingness to recommend the store to friends.
Better customer experience = higher sales
Still hesitating? Maybe hard data will convince you:
Companies that implement omnichannel strategies achieve a 91% higher retention rate compared to companies that do not (Source); 87% of consumers believe that brands should put more effort into providing consumers with a consistent experience across all channels (Source); 90% of customers expect consistent interaction between channels (Source).
ROPO effect (Research online, purchase offline)
This point is, in a way, a continuation of the previous one, but it is so important that we will devote a separate paragraph to it.
it's when a customer searches for product information in online channels before buying it from a stationary shop.
You can find interesting data on the importance of ROPO in "Omnichannel 2018" series of reports. by YourCX. According to them, as many as 61% of respondents always or often look for information online before buying sports or hobby products in a traditional shop. In the fashion industry, it's up to 39%. What exactly are they looking for?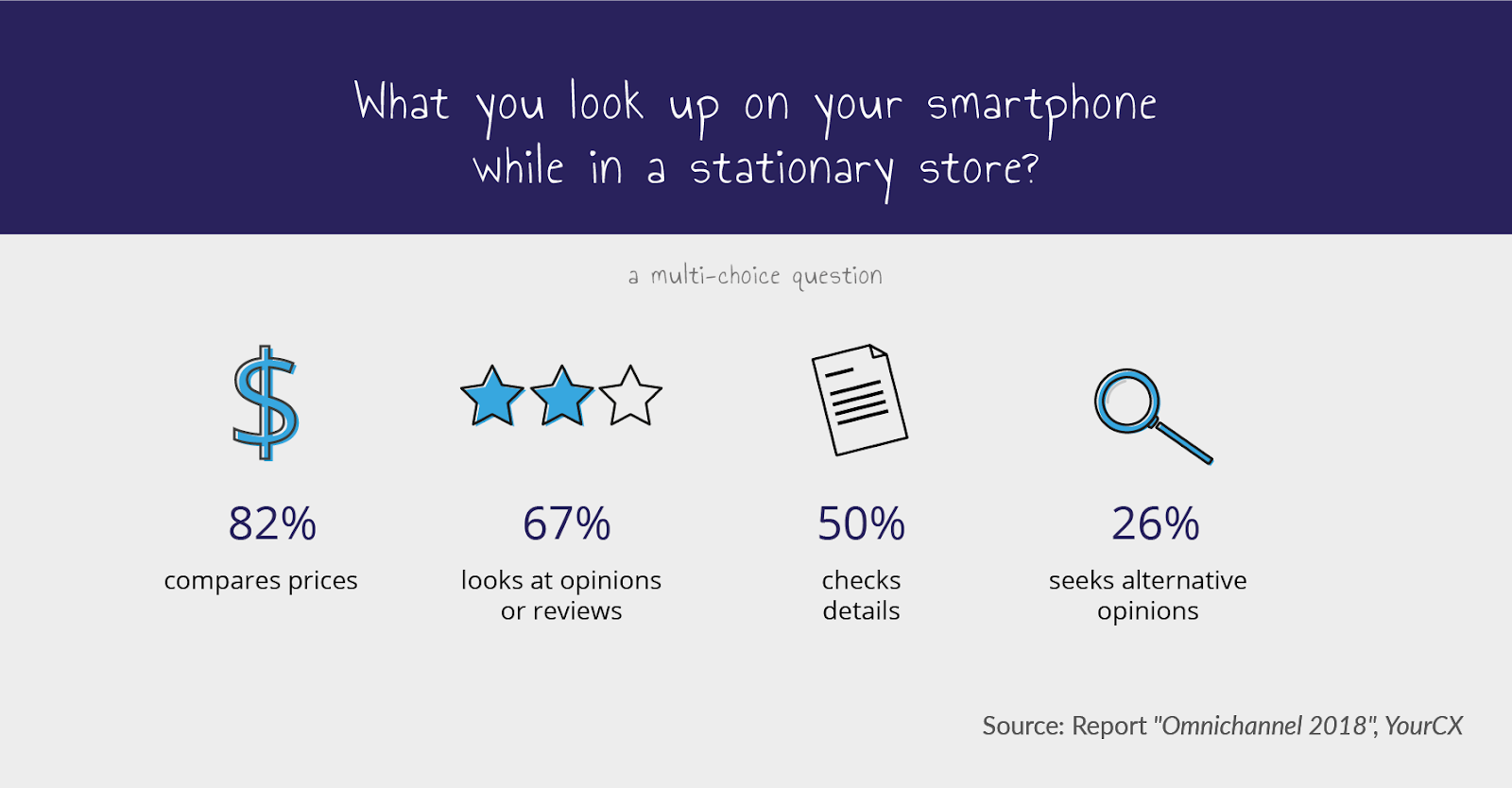 Survey results for the sports/hobby industry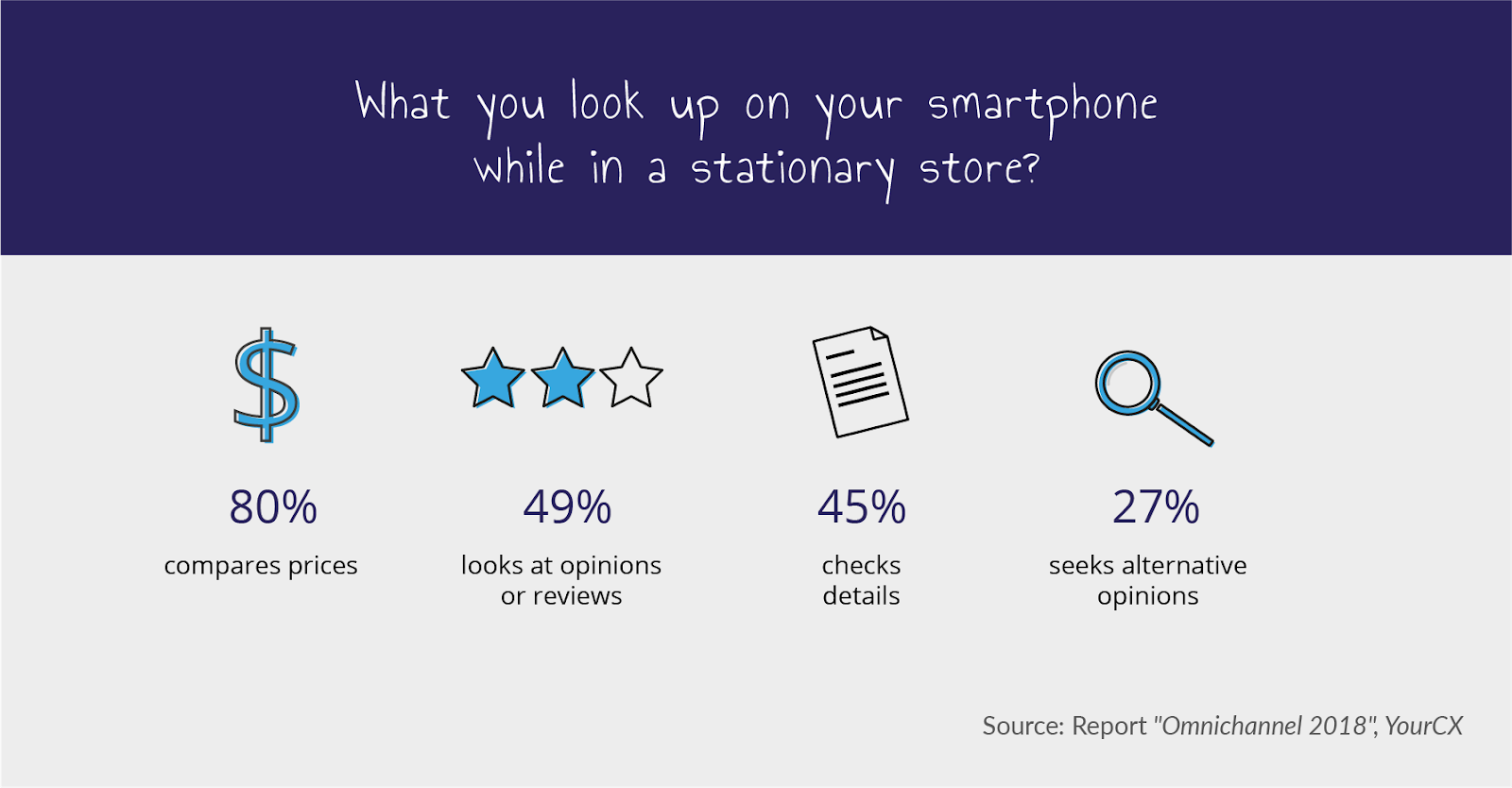 Survey results for the clothing industry
There is also the reversed ROPO effect – when a customer watches a product in a stationary store, but purchases it via the Internet, usually from a seller offering the most attractive price. This is a common case in the fashion industry. For example, prices of shoes can vary significantly between online and offline channels. If a customer finds an online retailer offering their dream pair of shoes much cheaper than in the offline channel, they will buy from them, but earlier – they will try on the product during a visit to a stationery store.
Does every company need omnichannel?
Implementing an idea of omnichannel is not obligatory, but as you expand your sales with new channels, you will start to notice that you need it.
The greater the difference between the channels, the greater the irritation of a customer. No wonder! Imagine that a company' stationary store (which is just a step away from your home) didn't have your size, so you had to order the product online. Unfortunately, it turns out that you did not like it, so to return it, you go to the nearby shop and there…. they send you back to the online store.
Would it not be easier if those channels were connected?
Let's look at another example. You make a purchase in an online store of a brand, and in a few days, you discover that there is a promotion within a mobile application and if you would've used it, you would save 20%. Do you feel angry? Your customers' feelings may be the same if you disregard omnichannel theme.

However, before you get used to an idea of omnichannel, consider whether its implementation is worth it. Let's assume that you sell in two online channels – you have your own online shop and additionally, you offer your customers a possibility to buy products through a popular auction portal. Unfortunately, a second option charges you a significant commission for each sale. In order to maintain the same prices on both channels, you have to choose one of two ways:
raise the prices in an online store to be equal to one of the auctions (covering commissions for an intermediary). Thus, your offer in the first of these channels is not as competitively priced as it could be; offer on the auction portal the same prices as in an online store – following this way, in the first channel you earn less by the amount of commission. Doesn't sound good, right? Perhaps the best solution is different and it does not take into account omnichannel approach. You can keep prices low in an online store while offering your products on an auction portal, but adjusting the prices in this channel to costs it generates. By doing so, you keep your strengths within your own sales platform, while remaining open to auction shopping enthusiasts. It's a win-win situation.
What is the final answer to omnichannel? To implement or not to implement? As in business, there can only be one answer (and not everyone will like it) – "It depends on …". There is no universal way that every entrepreneur can follow. A decision to implement omnichannel idea must be based on your own business reality – your industry, your target group, its expectations, and so on.
What to take care of while implementing omnichannel
As you already know from the paragraph above, an implementation of omnichannel idea in a company is a very individual matter. There is no universal recipe for success, but there are several factors that are worth taking care of.
Do not favor any of the channels
This is the first and most important step. Even if you provide a consistent experience across all channels, but focus on developing one of them much more than the rest – everything you've worked on will be forgotten.
Do not bounce customer between chanels
I'm talking about a situation when a customer, asking a question via one channel, e.g. a social networking site, and is sent back to another (e-mail contact), and then even further (hotline). This is unacceptable. Even if the client goes to the wrong channel, do not redirect him/her any further, but start internal processes and answer him/her where he/she asked a question.
Online purchase, pick-up at a stationery store
Do you remember the example I mentioned a few paragraphs above? Picking up an order placed via the Internet in a stationary shop can make life much easier for customers. The same thing applies to returns.
Same prices
By offering lower prices in one of the channels, you encourage customers to use it. This is not the way forward if you want to deploy omnichannel.
Same promotions
The same applies to promotions. Make sure you give the same discounts everywhere, for the same products.
Loyalty program for online and offline shopping
This point is in a way a continuation of the next one. If you offer your customers an opportunity to participate in a loyalty program, make sure that it does not favor any of the channels. Customers should be able to collect points anywhere they shop. Forcing them to buy in a particular location can make it difficult for them to use a program and thus discourage them from using it.
Same communication
Finally, a cherry on a cake – consistent communication on all channels. Of course, I do not encourage thoughtless duplication of content. Every medium is governed by its own rules and – on an example of social media – what works well on Instagram does not necessarily work on LinkedIn.
I have in mind a certain consistency in terms of graphics, content, and communication with a customer. I will explain this by an example. If, after making a purchase in a mobile application, a customer receives a loose message beginning with words "Hi, thank you for the purchase!", but when contacting us via e-mail, an answer is "Dear Sir/Madam" – you still have a lot of work to do.
Opinion of an expert
"Due to complex processes and procedures, in industrial automation, every customer represents a top-down approach to a purchase of goods and services imposed by his organization. This peculiar individualism fits perfectly into the concept of "omnichannel", in which many ways of reaching a customer is shaped by solving his diverse problems.
In RGB Electronics the omnichannel approach is implemented in two areas. First one is e-Commerce, which is based in our case on the Magento platform. The shop is a hub for us, which by integrating with our proprietary company management software, allows us to update information on all sales channels in real time. Thanks to this, regardless of the place of purchase (shop, eBay, Allegro, direct sale), stock levels or product prices are always up to date.
An additional advantage of such a solution is the ease of opening new distribution channels – it is enough to arrange the already existing elements in an appropriate way. The above-mentioned actions allowed us to achieve more than 6-fold increase in sales in 3 years, and our equipment has reached customers in 102 countries around the world! We promote our services through a multilingual landing page dedicated to particular types of repaired devices, a website, social media, e-mail marketing campaigns or even our own YouTube channel. A customer can communicate with us via chat, e-mail or 24/7 hotline, and all messages are aggregated into one help-desk system.
Thanks to an appropriate presentation of the technological base and various methods of contact, we were able to start cooperation with companies from Germany, Great Britain or the USA, which allowed us to maintain the rate of growth of the company without looking for additional sources of income on our home market. E-mail marketing campaigns generate traffic up to six months after sending – customers remember our offer, but wait until a need for service of the device appears.
Selling a product or service in an idea of omnichannel idea is in my opinion, one of the cornerstones of an organizations' development and allows you to properly scale your business. Multichannel gives a potential leader more opportunities to get to know and appreciate a brand, but it is an integration of all channels and ensuring a consistent impression that is a proverbial cherry on the cake, cementing a customers' purchasing decision."
Wojciech Zarzeka, RGB Elektronika
Summary
Omnichannel is a concept that has been operating in an industry for a long time, but still, not many people know what's behind it. I hope that with this article I was able to answer questions that came to your mind when you heard of it.