Product configurator – does your company need it?
An ever-increasing standard of living means that more customers are looking for products and services that are fully tailored to their expectations and needs. The situation on the e-Commerce market is no different. Consumers using online platforms want to have as much impact as possible on an appearance, dimensions, and add-ons of a product, especially since they do not see it live and cannot touch it before purchase. Therefore, to meet market requirements, companies are moving away from a standard catalog offer to personalized configurators that allow users to quickly create a product that meets their requirements.
Giving such a great possibility into the hands of the customer strengthens a connection between both bought products as well as with the brand that has given such an opportunity. Willingness to buy a product is also increasing and uncertainty caused by a product mismatch is reduced. In practice, these elements translate into an increase in satisfaction with the purchases made and a decrease in the number of returns.
Benefits of implementing product configurator
Benefits for customers
ability to define the characteristics of the product in detail,
saving time and money (there is no need to go to a stationary store to select or assemble a suitable product),
access to offers which, due to their specific nature, could not yet have been sold over the Internet,
unlimited time for reflection and decision-making regarding changing configuration of purchased products,
a huge number of possibilities of searching for the best configuration at the best price,
(if configurator has such a functionality) possibility to see a visualization of the selected product, e.g. a roller blind in a specific material in the window frame or a label for a bottle of wine, beer or other selected beverage,
etc.
Benefits for a company/shop
Not only customers will see the advantages of product configuration. For companies, it's all about:
an additional sales channel;
possibility to optimize the sales process (a company receives an order ready for execution, which can be immediately transferred to the production department);
transfer of many activities on to a customer (measurement, choice of material, selection of accessories, thanks to which the costs associated with a production of the product are reduced);
a possibility of selling products which, due to their specific nature, could not have yet been sold in traditional online stores or required several customer visits (e.g. roller blinds, photo crystals, cars).
Briefly about costs
Configurator is one of the most complex modules that can be implemented in an online store. Of course, we are not talking here about a simple product parametrization, because it is usually built into already-made e-Commerce solutions.
A degree of difficulty (and thus a potential cost) is influenced by the following elements:
the number of steps needed to fully parameterize a product,
development,
a degree of the process itself,
number of options and a degree of correlation,
visual and functional aspects (a form of presentation, live view of changes, 360° view, etc.).
There are ready-made modules, which can do a lot. Their prices start from a few thousand PLN. In practice, however, the best configurators are dedicated solutions, whose design focuses primarily on the nature of sales, target group, and product specification. However, it is associated with a price several times higher than general solutions.
What to keep in mind
There are a few important issues that you should keep in mind:
1. Respond to needs
The product configurator is supposed to be an answer to consumers' needs and born explicitly from them. This leads to two conclusions – do not make a configurator available if it's not needed, and do it in such a way as to make things easier and not harder for a customer.
2. Don't forget about the project
Creating a functional project of a product configurator is one of the key stages of implementation. Leading business need should be facilitating the purchase and opening up new opportunities for the customer. Considering that each industry sells a little differently, also because of the targeted group, make sure that you have devoted enough time to find the best functional solutions. Otherwise, you will lose the potential of your tool.
3. Focus on the product
The more it allows the customer to see the final product, the more effective the configuration is. The more you show, the better for your future orders. I'm talking about:
clear photos,
an outline of relevant details,
presentation of an actual product.
A few examples from which one can draw inspiration
BMW
Companies from the automotive industry have some of the most extensive and functional creators available on the market. In my opinion, one of the best is the one on the BMW website.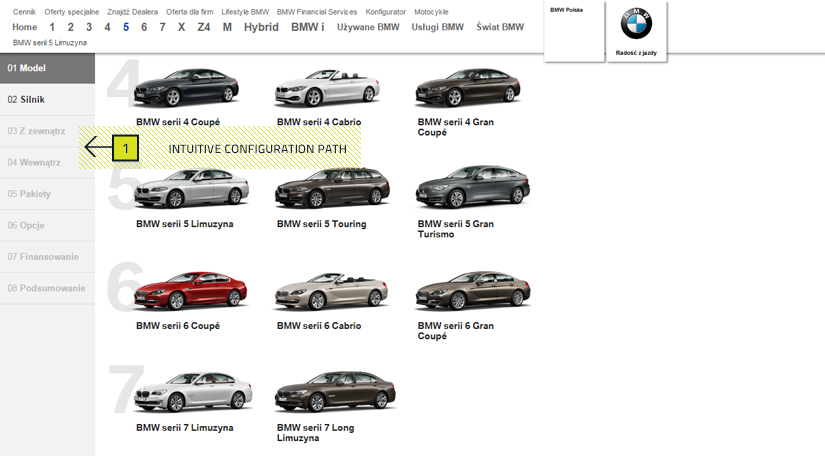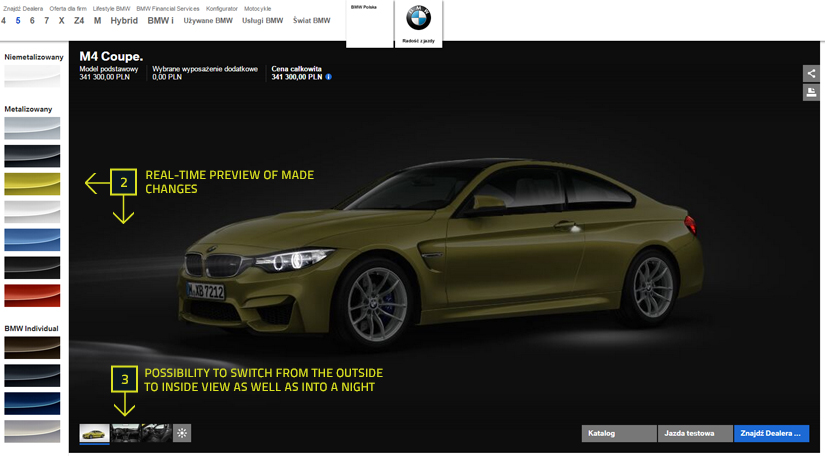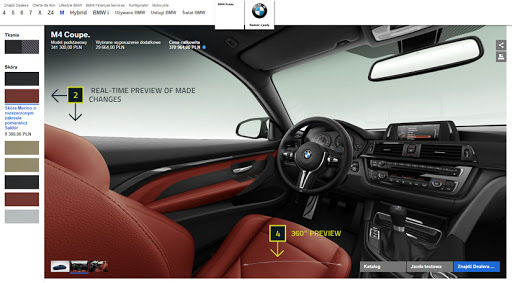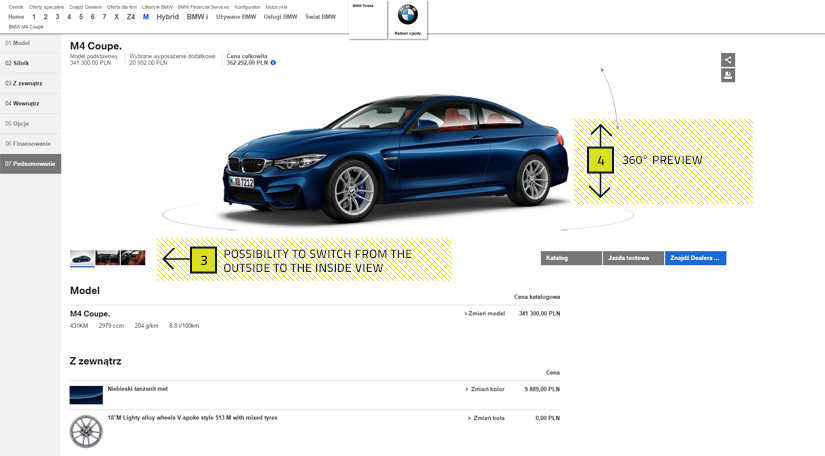 Intuitive path of car parameters selection – in a configurator implemented by BMW. You go from a bottom to the top. Initially, you choose the most important parameters of the car, such as – engine power, type of drive, then the color of the inside and outside, ending with the details. This arrangement is one of the most logical that you can use.

High-quality images and live view – while configuring specifics of a car, not only high-quality photos are presented, but also a preview of made changes in 360°.

Hints, suggestions– The system of hints and suggestions implemented by BMW makes it possible not only to get to know the functionality of implemented systems in cars of this brand. It also suggests which elements can be purchase.
Bottlabel
Bottlabel has been present on the Polish and European market for a few years now. The greatest advantage of this system over the competitors' offer is an innovative, interesting and functional configurator. Thanks to it, each user is able to create their own dedicated bottle label in full range, i.e. front, back and bottle tie.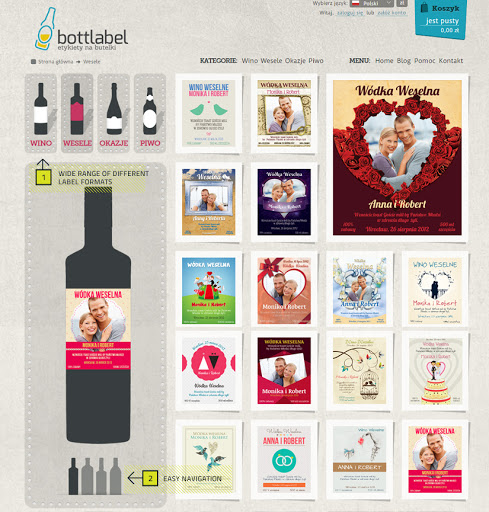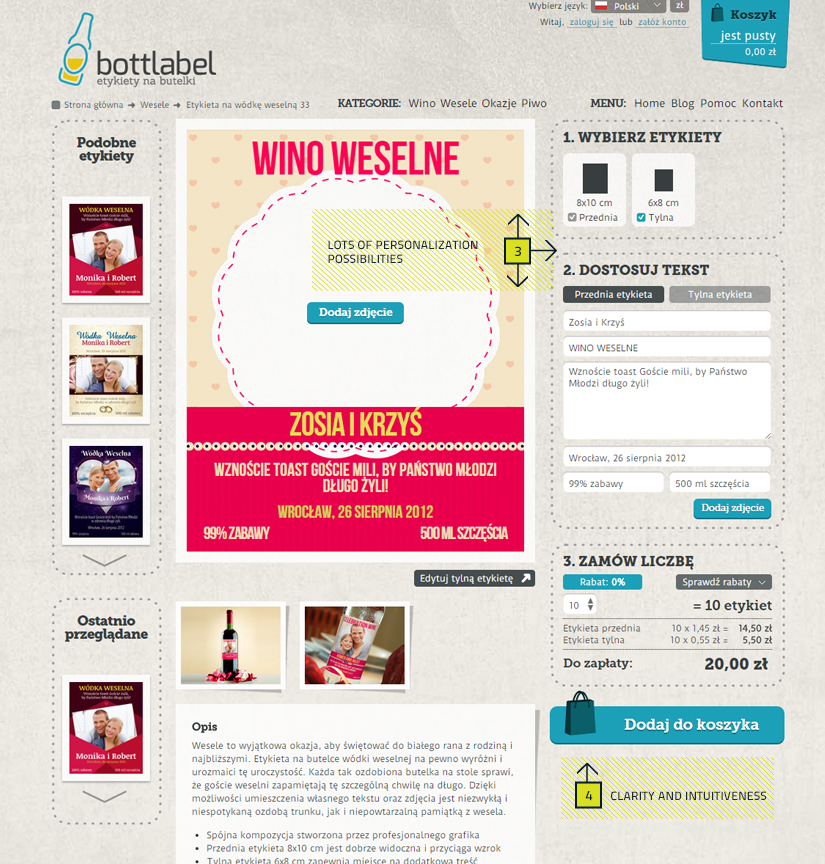 Clearness – from the very beginning, the consumer is aware of exactly what a creator can do. Steps of the creator are selected in such a way that the customer never has to consider what to do next.

Personalization – you are able to change practically every element of the label, including texts and photos. It is also very important here that all the changes you make are visible in the live view.
Lotari
Lotari brand, owned by Franc Gardiner, was created, among other things, in order to provide customers with a personalized creator of roller blinds, stickers, and wallpapers. A level of advancement and quality of execution makes it a very good example to consider.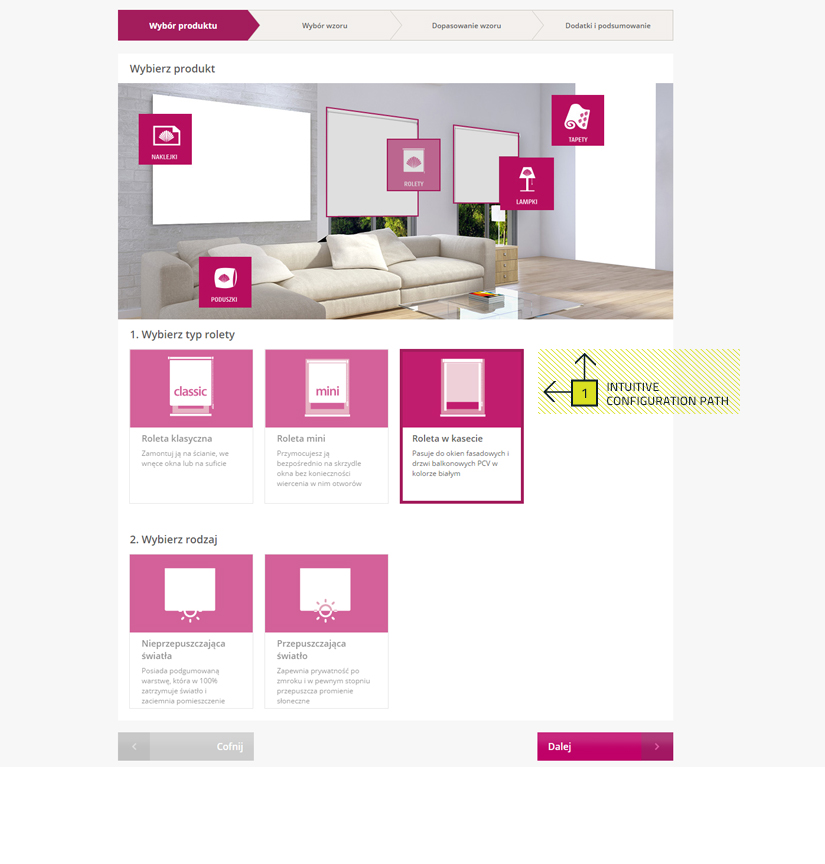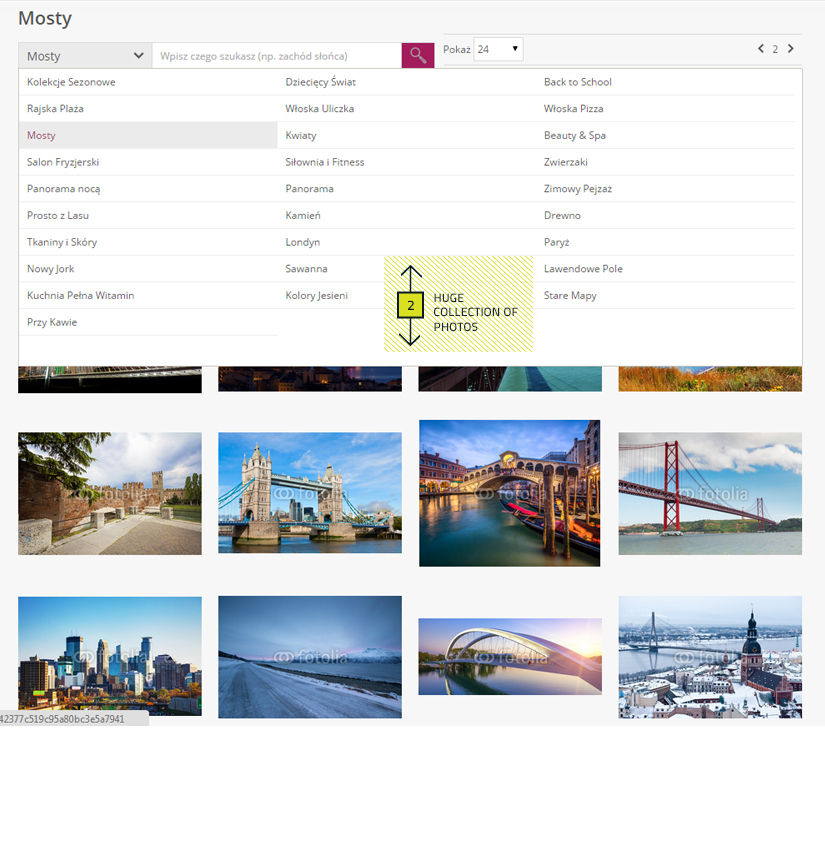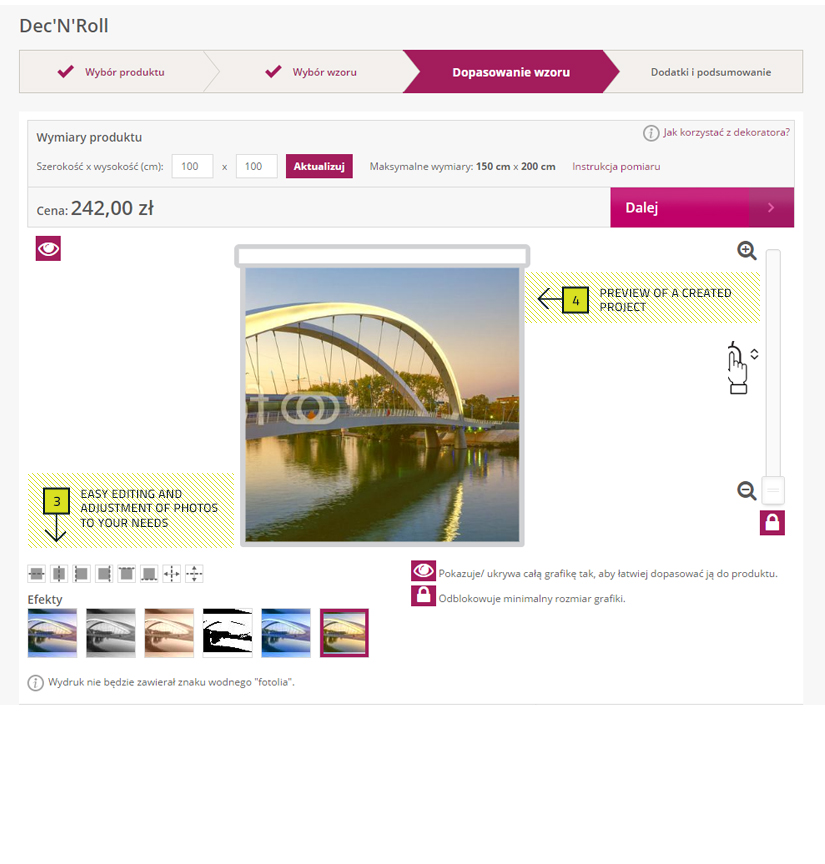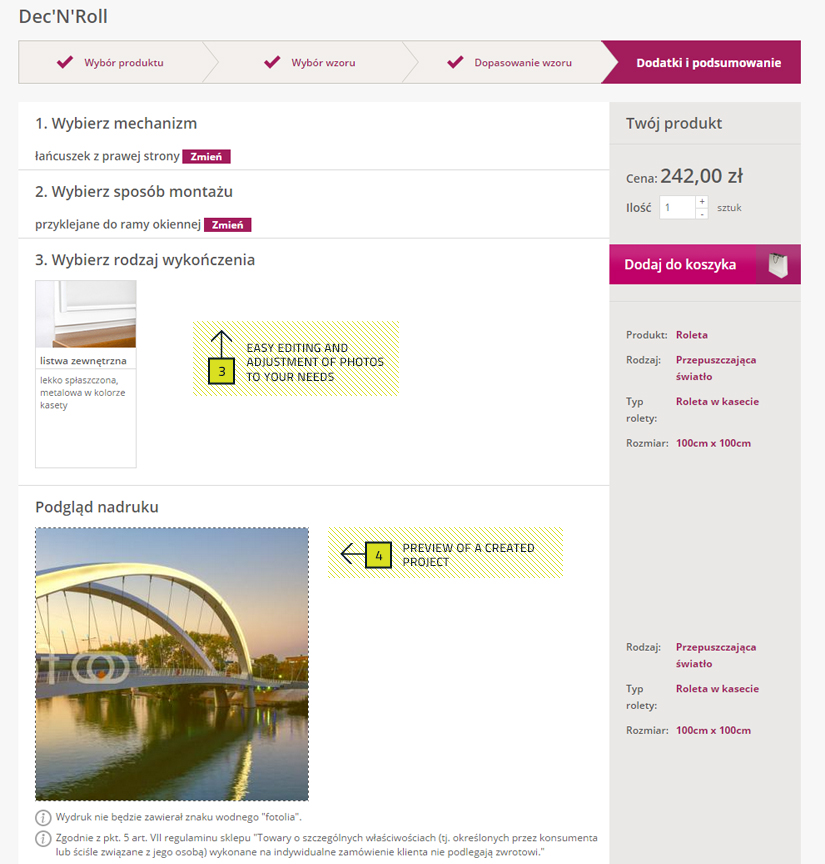 What constitutes a competitive advantage of implemented configurator is, among others, the following:
Clarity, images – the creator is clear and intuitive. It is also important that pictures of products are in very high resolution so that the customers always know exactly what they are choosing.
Personalization – Each project can be edited directly from the creator, e.g. if you choose a picture you are interested in and find that you want to move it or use a black and white version, the system allows us to do so. The results is a fully personalized product.
Support – At each stage of design, you can contact on chat an employee of the company in order to inquire about the details of a given project or to ask for advice, e.g. which material would be the best. This procedure provides a great sense of comfort to the customer, who at any stage of design does not feel alone or left without proper support from the company.
Boden
Boden has been present in the fashion industry since 1991, reaching more and more countries with its offer year by year. It is a precursor to one of the most interesting configurators of clothes selection, which can be found on market.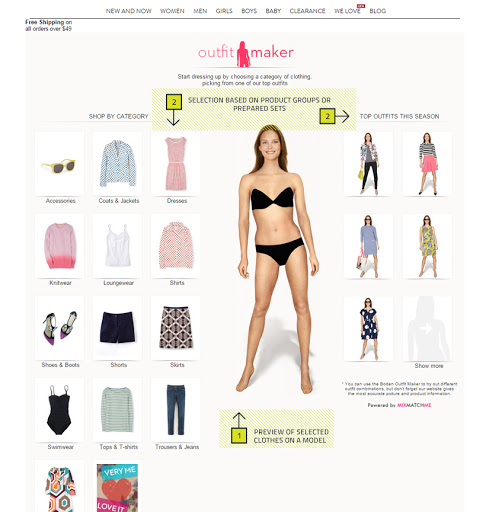 Possibilities of personalization – thanks to a configurator you can not only change and match already existing sets offered by the company but also create our own based on the available database of clothes.
Clarity and ease of use – configurator has been built in such a way that every time a change is made, modified items of clothing appear on a model. What is very important, along with the modification of clothes, the price of a given set is updated in real time.
Social media – a very important element, which has been implemented, is an ability to share the chosen styling with friends through social media – Facebook, Pinterest, etc. Thanks to this functionality, customers can easily consult friends, and btw the website advertises itself. It's a very good move, taking into consideration the targeted group.
Summing up
Examples presented above are both attractive to the eye, intuitive and interesting in terms of offered functionalities. One of the bigger advantages is the fact that they allow for building a fully personalized product almost from scratch. A good configurator is a tool that brings the customer closer to you and your company. It allows to get to know your offer better and, as a result, to increase sales of your online store.