The most important B2B features in e-Commerce
B2B selling migrates to the Internet faster and faster. Although the trend has been present on the market for several last years, the methods have significantly changed lately. Putting it in simple words, on-line B2B sales have already matured. All suppliers try to make their customers' lives easier, build better trust and eventually win the competition.
What's worth noticing, B2B often comes with different shopping needs, as customers not only buy but also "work" using your website as a tool. Their presence, further engagement, and activity depends on the comfort they feel. And that's the main point of this article – I'll tell you what your customers require from your website, or to be more precise, what features you should provide them with.
Why is it even important?
"Maturing" is the proper word to describe B2B on-line market. In fact, many good things have happened in last 5 years and companies started to hit the niche. Just check some of the fresh B2B platforms:
and so on…
Yet, so many companies live in such a different world that revolves around two main scenarios:
"I don't utilize the power of on-line B2B selling",
"my B2B website looks more like an Excel sheet than a well-designed e-Commerce website".
It's not hard to prove that the first case is something entirely unacceptable ?. The second one is not so obvious. There are still many companies out there thinking, that a B2B platform should be something raw and totally classified (it would be a disaster to find a link to a B2B panel on a company's website) and as distracting as possible (for employees and customers themselves).
Frankly, as long as you only work with your customers through a B2B panel, it's not that bad. But when you have another side project, and it happens to be a perfectly crafted (worth a few hundred thousand dollars) on-line shop for your B2C customers, there's something wrong with it. The question about your priorities arises, and you should be ready to face criticism. It seems like you're focusing your strategy on the wrong customer group! Not so much of a business partner, right?
Features you should remember about
I point out 7 features, that you should at least consider during the implementation of your great new B2B system. Everything, of course, depends on your business model, strategy and so on, but without a doubt, you need most of them.
1. Advanced pricing
Advanced pricing model issue should not be particularly surprising, in the end, it is one of the pillars of long-term business relationships. If you aim for customer loyalty and at the same time want to persuade them to use your store, instead of placing orders by phone, you must ensure that:
customers can use advanced pricing policy,
individual pricing remains the same across the channels.
The second factor is extremely important to the store's success. While the pricing policy is a part of your sales strategy and can be more or less complicated (and still bring you the expected business outcome), its consistency will determine whether the customer will stay in the store or not (because why on earth would he place an online order if the grand total would be cheaper by phone).
Example
ELMARK Automatyka solved the issue of discounts and price lists (<sklep.elmark.com.pl>) in a very efficient way. Being a B2B customer, I receive a very detailed pricing policy in my account dashboard. I see immediately what discounts I can expect. In addition, the company made sure that the level of detail corresponds to the realities of our business relations, i.e. it is exactly the same in a new store, an old store, etc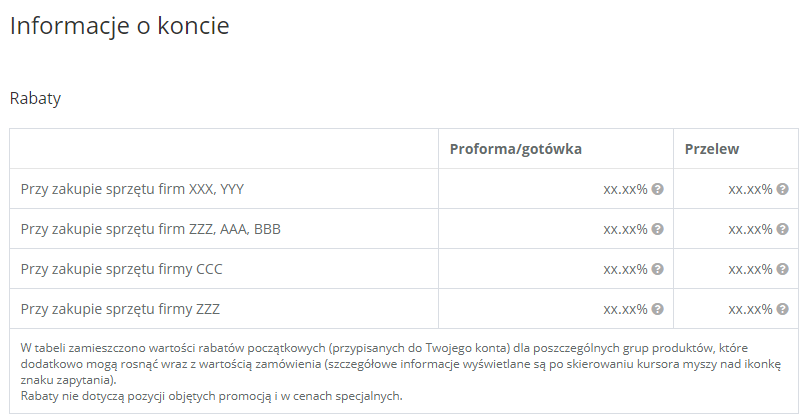 Transparency – the best word describing pricing policy in ELMARK's store
2. Perfect search
Your customers won't buy, unless they find a right product. There's nothing revealing about it. However, if your offer includes ~100,000 products, there can be about ~15,000 products in one category (what's even worse, they differ in very small details). That's when things get complicated. The above-mentioned situation can actually happen – in the electro / industrial automation industry, products with dozens of attributes may differ only in one option (for example, the number of wires in the cable).
That's where an advanced search engine becomes handy (or even crucial). It should not only give customers perfect search results, but is also smart, and by smart I mean:
it supports searching by attribute,
it supports searching by EAN / manufacturer's symbol,
search results are categorized,
search results are filterable,
it corrects query if a user makes mistake,
the results can be sorted.
Of course, UX is an important part of an overall success (good place on a page, autosuggesting, filters usability, etc.), but it should be clear.
Example
One of my favorite search examples comes from Conrad's e-Commerce (<conrad.pl>). As I mentioned before, 100,000 products is nothing special, and Conrad's offer includes about 500,000 of them. So how can a customer find what really interests him?
From the very beginning the search engine provides a customer with common phrases and matched products: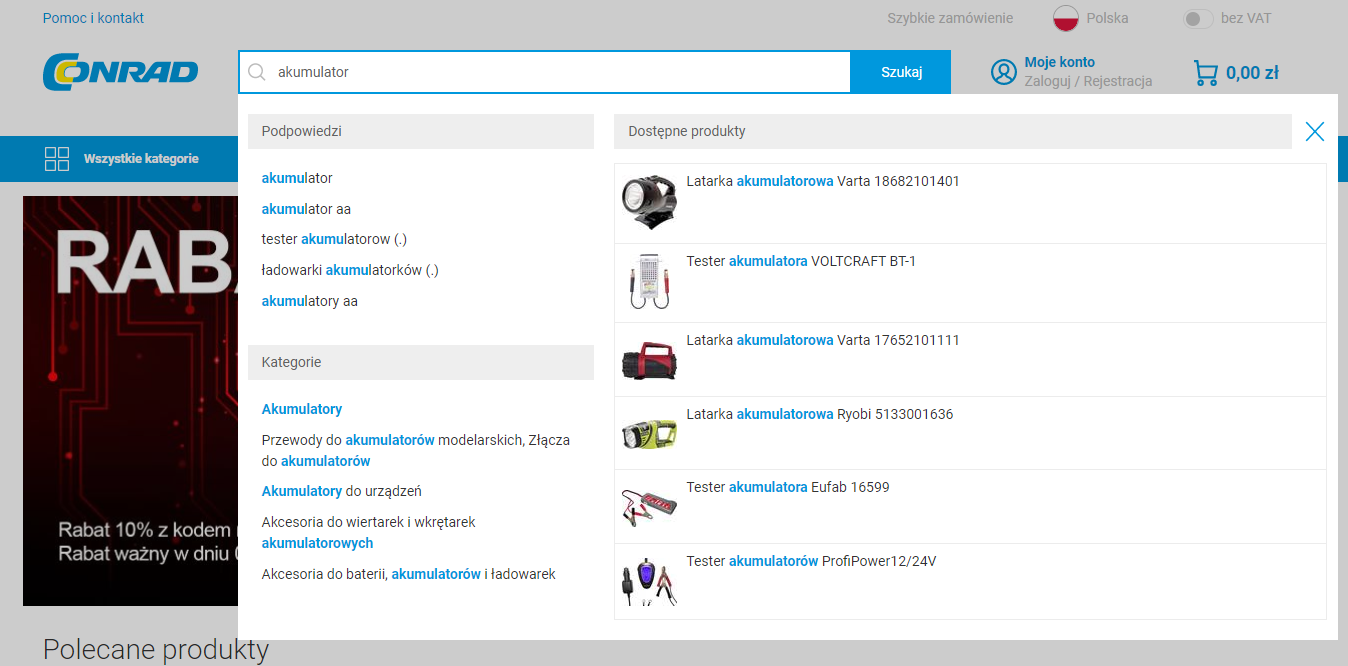 Autosuggest is pretty helpful
The further we go, the better it is. Search results are sortable, and what's more important, filterable in every possible way. Honestly, it's hard not to find what you're looking for ?. In the screen below you can see quite a good example: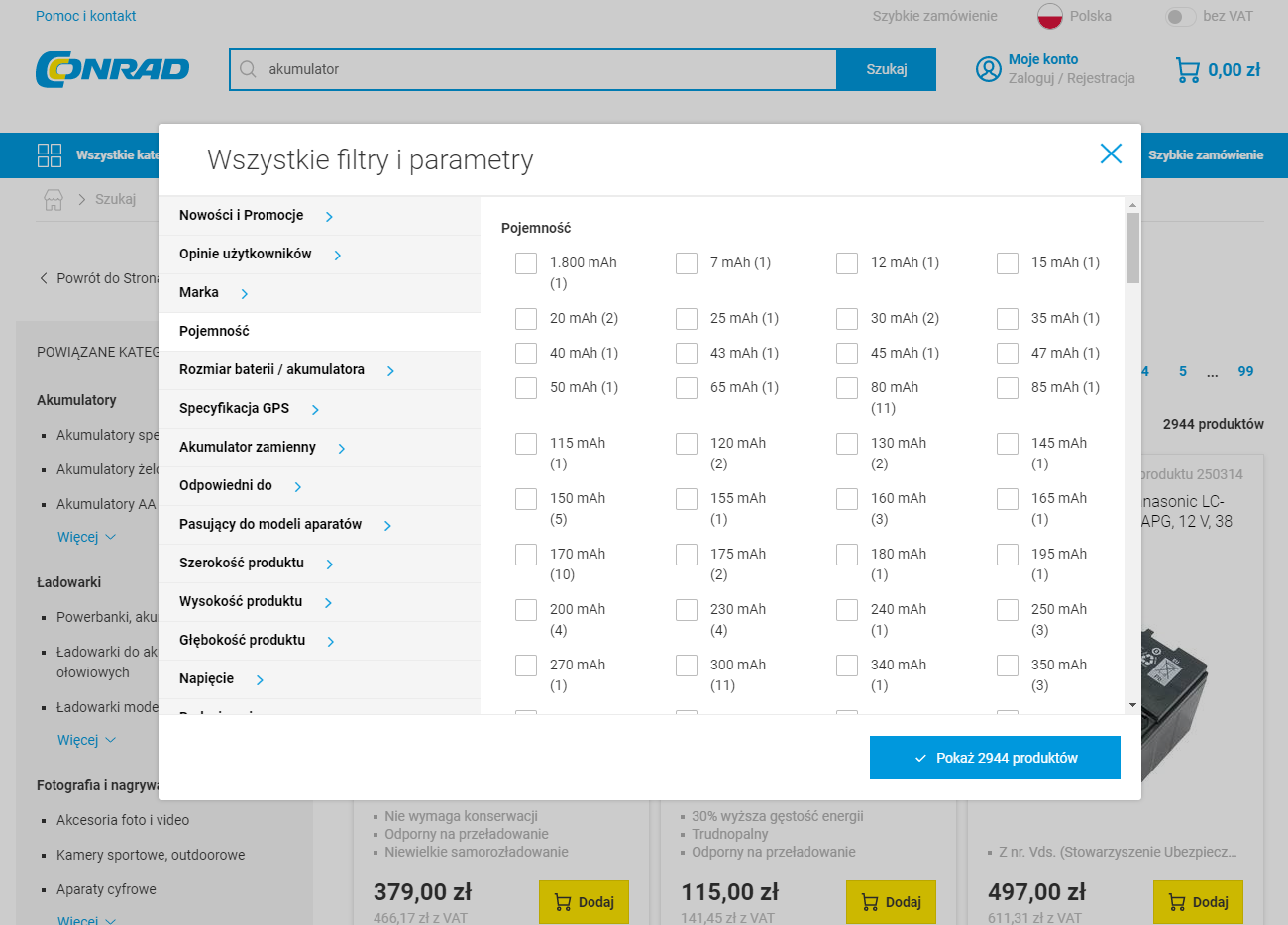 Thanks to advanced filters it's difficult not to find the right product
3. More payment methods
Besides individual pricing, most B2B customers come with individual contracts. This applies in particular to possible deferrals in payments and credit limits (along with a custom order number, which is often forgotten).
If your company allows customers to use the aforementioned payments, you should definitely include them (along with specific details, e.g. the value of the credit limit) in your platform.
Apart from these two aforementioned, it's also worth remembering that your store should be as accessible as possible to your customers, that is, you have to remember about additional payment methods:
bank transfer,
upon receipt,
on-line,
credit card.
Example
RGB Automatyka (https://www.rgbautomatyka.pl/en/) has shown a good transparency and usefulness. The value of the credit limit is in a visible place, so I know immediately if I'm still in my budget:

Clearly visible credit limit facilitates making purchase decisions
4. Quick order
As I've mentioned before, it's important to help your customer find a right product as precisely as it can be. However, it is equally important for B2B customer to add a product to a cart, without crawling through product lists.
Check the average order volume in your company, especially in terms of a number of different products. If there are many of them, walk in your customers' shoes and try placing such a large order in your own store. If after a while you feel tired, it's a clear sign that you have to speed things up.
There are many possibilities to do that:
adding products from a product list (along with the "add many" option),
adding using a CSV file,
adding by EAN / manufacturer's symbol / etc.,
re-order,
adding products with a code reader,
adding products from shopping lists (or having wishlists).
Time is money, and your clients should feel comfortable with large orders.
Example
A good solution can be found in the ACTIV store (<activeshop.com.pl>), which provides its customers with a possibility to quickly add products to the shopping cart using a product index: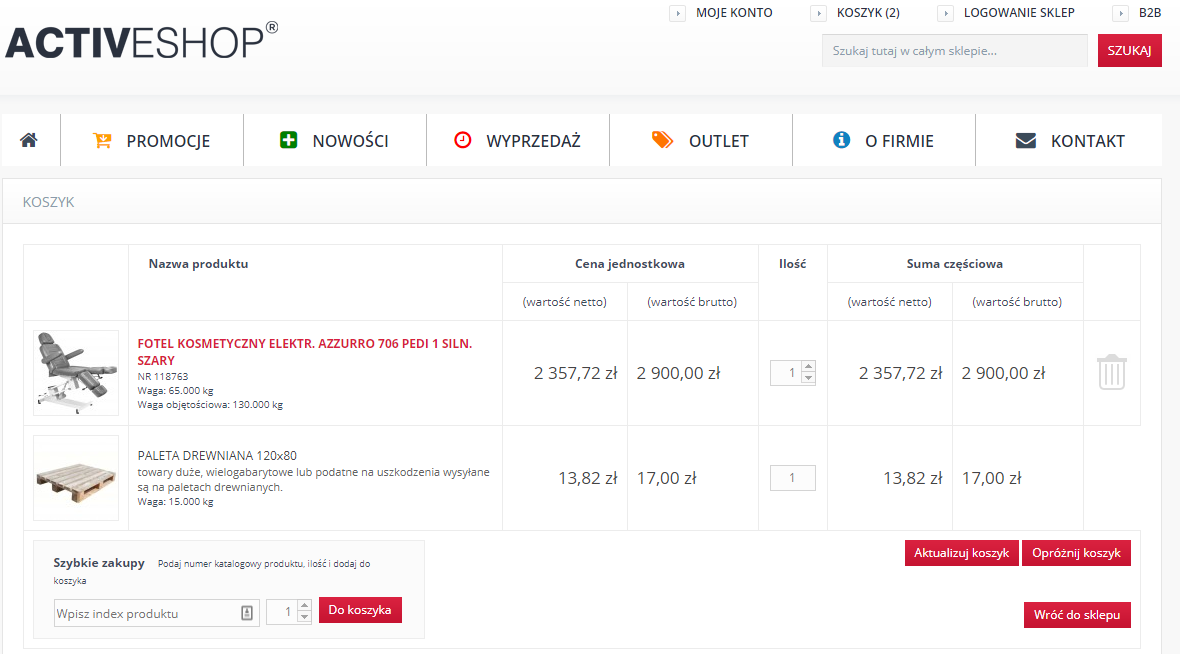 For some contractors this small form is all they need to place orders
Thanks to this, you can actually just paste product indexes one by one, followed by proper quantities and approve the order. It. Is. Useful.
5. Multiple carts
Multiple shopping carts feature is especially useful when your customers are resellers, agents or franchise owners. If you consider their workflow, you'll notice that they often make an order for several clients at a time. You should enable them to perform such operation in your store, remembering about:
easy switching between carts,
possibility to name a particular cart,
providing your customers with cart operations (merging, copying, dividing, etc.).
Optionally, instead of allowing work on multiple carts, you can provide your customers with multishipping functionality (dividing an order into many shipments). Note that it's a worse solution because you force a customer to actually place an order (and the timing may not be good).
Example
TIM (https://www.tim.pl/) provides its customers with multiple shopping carts functionality. Customers can modify each cart freely, which simplifies working on several orders simultaneously:

Shopping carts are ordered and provide all the necessary information
6. Sub-accounts
The sub-account functionality is particularly useful for large contractors. It so happens that we actually work not with the company, but with many departments, which have their own budgets and representatives (but all invoices have to be accepted by management). Of course there are many business models, but in general:
your customers need to use sub-accounts,
sub-accounts should come with additional credentials management.
By additional I mean "consulted with your customers" (so that you deliver them something useful). In this way, you'll be able to implement their internal processes, and you know how it is with large players and who has to adapt to whom ?.
Example
Again, we will return to the TIM platform, which probably best reflects what you should think about when designing your store's functionality: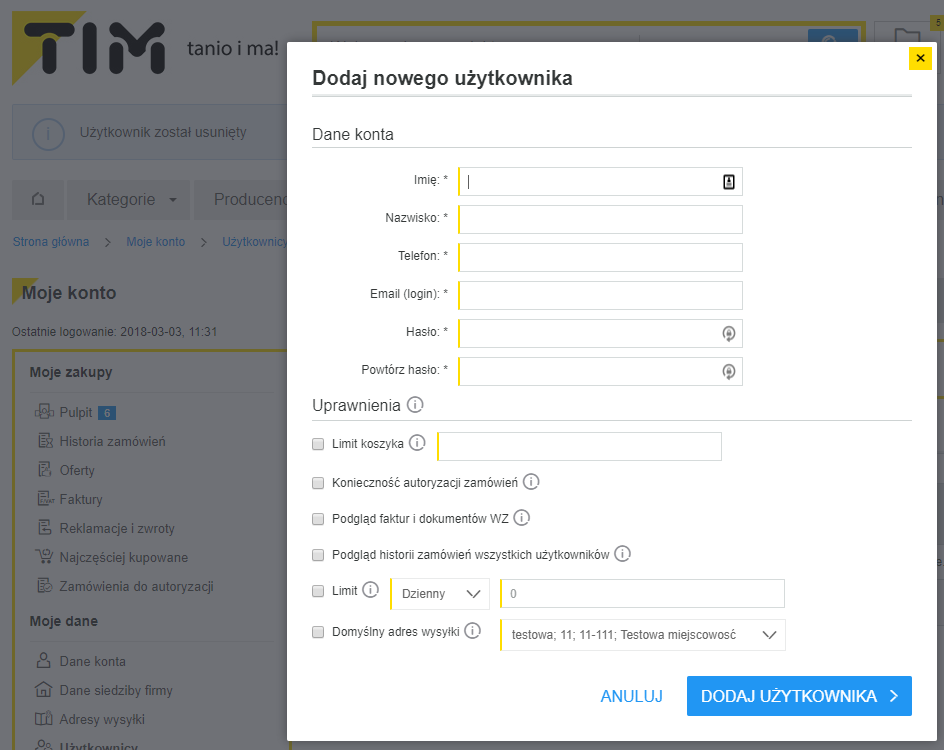 Advanced account structure management is something that will certainly be thanked for by large corporations
The feature is useful and allows to control expenses of each department separately (as well as accept orders, limit an order's value and so on).
7. Custom offers
By offering I mean two different features:
price offers for your clients, i.e. responses to inquiries,
the ability to generate offers for clients of your clients.
The first one is something typical, after all, we all know that in B2B the regular price is just an invitation to further discussion ?. You should ensure, that a customer:
could easily accept the offer,
could print the offer and pay for it,
could access his active and inactive offers,
could submit comments on the offer.
The entirely different case is providing the functionality of offering to your customers' customers. The key here is to deliver a feature that makes life easier for end-users. If your customers will be able to configure an offer from your products along with their own services and pricing, they'll definitely visit you more often.
Example
I'll pass on the first offer module and instead, I will show you an offer designer for your customers. Again, I will use TIM as a great example of such feature. For me, their module is a work of art:
The offer creator from TIM is so good that it deserves a separate article
Actually, this is probably an ultimate example of how it should look. Based on an intuitive wizard, customers are able to create their own cost estimates. Of course, there is a benefit – by offering directly from a shopping cart, in case of acceptance one can place an order quickly (and because the platform provides many shopping carts, you can work on multiple offers simultaneously).
Summary
B2B on-line sales come with a huge potential to improve your company. You just have to remember about few basic factors:
keep it omnichannel,
treat your B2B customers at least as good as B2C,
provide your customers with tools that actually help them do their job, and they'll stay with you for a while.
Finally, one more factor that should be mentioned. You should listen to your customers all the time. Answering to their needs will definitely make you bigger.