When to change the e-Commerce platform?
In the world of e-Commerce the only constant thing is a change. Owners of e-businesses who want to be on time, do not have an easy life. New payment method, which needs to be integrated, changes in the law, growing competition, changing user habits, technical innovations, new stylistic trends, development of tools… I could list it without end. Of course, change is not a bad thing. Those who really keep up with market expectations cut the biggest pieces of cake for themselves. Besides, who would like to live in a world without any challenges?
In this spinning wheel of changes you may find that you see more and more flaws in your shop:
you can't do it more and more often,
development costs are rising,
repairing one thing spoils the other,
even the most patient employee goes crazy about working with a shop,
you focus more on chasing the tail than on real development.
If such a description of the state of affairs coincides with your reality, it is a signal that you need to seriously consider what to do next. One of the solutions is to do everything from scratch.
How do you know that the time has come to take such drastic steps?
When not to change the platform?
I'll start from the end because in the modern world everyone lacks time and I don't want to waste your time reading the whole article. When should you definitely not replace the whole store?
In short, when it doesn't pay off for you.
Of course, I don't want to distract anyone from the active battle for market share, but:
your current growth strategy may be based on other channels (e.g. social media coverage),
changes in the online store may be so small that they do not cause much frustration,
you may not be planning far-reaching changes in the near future,
you may not have used the potential of your current tools yet.
We often hear the sentence that sound more or less like "I would like to have the same thing, but on Magento 2". This does not sound like a sensible strategy, let alone something profitable.
Even a simple indicator such as ROI for a new store can help you to make a decision, assuming the estimated increase in the scale of turnover (or the difference with the decrease, if it were to occur without any change) as a profit.
If the change of the shop will not have such an effect, is it really worth it?
To sum up, reading the rest of the article only makes sense if you are planning to develop intensively. Otherwise, you have to ask yourself how reasonable it is to spend a lot of money just to make it cheaper to change a few things in the future. It will simply never pay for itself.
"I'm still reading"
If you keep reading it means that you have a feeling that not everything in the development of your store is going as you imagine it would. You already know how to more or less count the return on investment in changing your online store. Time to indicate the moments when it is worth to use the calculator and contact an e-Commerce agency (for example us) to estimate the cost of changing the store.
You have limited opportunities for development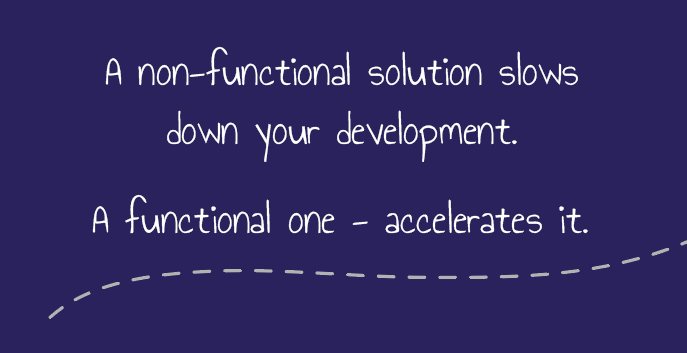 By using SaaS (or closed source) solutions you will significantly reduce your development possibilities.
While such tools are a great choice in the initial phase of store development (mainly because you don't need to spend too much money), sooner or later you will stand against the wall. It is difficult to count on changes in the tool itself (unless your idea is so universal that it is worth simply implementing it for everyone). However, if you manage to persuade the supplier to make changes, it will probably happen with a long delay and will affect all stores.
What does it really mean? Anyway, forget about building a competitive advantage due to the functionality of the platform itself. You rely on being like thousands of other stores on the same engine.
In the best case.
The worst thing is that you will not be able to convert the potential of your company into a sales tool at all. Advanced configurations for your products? This is unlikely to happen in subscription solutions.
Technical debt absorbs a huge part of the development

Regardless of the engine you choose, if your shop has grown over the years and..:
you saved money on programmers,
you've worked with several companies,
you have significant delays,
the agencies didn't necessarily know how to make good code.
Probably a technical debt (for a reminder: deficiencies in an IT project – poor quality code, incomplete documentation, etc.). – Most often resulting from the desire to do work faster or cheaper) hits your budget for development.
How could you assess that you are facing a technical debt without technical knowledge?
cost analysis – if similar works require incurring more and more costs, there is a chance that it is the effect of growing debt,
continuous refactoring – continuous tasks of improving, optimizing and documenting the code are connected with the fact that probably nobody can repair the code sensibly anymore,
external audit – you can use the help of an external company to perform a project status audit. However, it is worthwhile to choose a company carefully, because as you can see from the point above, a refactor is always a "great idea",
supplier rating – if you have a good relationship with a supplier, the question of debt will eventually come up in the talks. Especially because it does not necessarily have to be the fault of the company itself, which carries out the project (for example, the delays are not without impact on the quality of the code in the project).
Scaling problems

The performance problems are partly related to the debt from the previous point.
If your shop grows rapidly – every day there are more and more customers, the assortment grows, and Google Analytics can't keep up with the number of visits to the website, you can wake up with platform performance problems.
Real-time optimization can be very costly to implement (although not always, of course). Therefore, if the shop is "clogged", it is worth making sure before starting work that they will be effective in the long run. Otherwise, you postpone the problem by a short time.
You pay for things that are standard all over the world
Nobody will ever convince me that choosing an original e-Commerce solution makes any sense. Even if we assume that we turn Magento (or any other solution) upside down (we implement such projects as well), it always remains at the end of the day:
framework, which is known in the market,
a certain structure of the code that forces the implementation of changes,
the whole community that's developing the project.
If you do not use one of the ready-made solutions, you are condemned to pay for every news that will appear in the industry.
The simplest example I can think of is payment methods. Practically every big player takes care to have ready integrations with the most popular e-Commerce solutions.
Just look at PayU: http://developers.payu.com/en/plugins.html
This is, of course, a natural thing, after all, ready-made integration is one of the elements that make a payment solution attractive.
If you have to pay for every such thing in your shop, in most cases you are condemning yourself to completely unnecessary costs. Instead of balancing open doors, we propose to our customers to shift the cost to really innovative solutions, and to use ready-made modules for simple things.
Vendor lock-in
In the case of dedicated solutions, not only do you probably overpay for every functionality (especially for those that the whole world already has for free). You also risk becoming dependent on the supplier.
This is what the term vendor lock-in means. Entrepreneurs do not want to be dependent on their suppliers, especially in a system as critical as the one that generates turnover in your company.
What can happen:
your supplier will resign from cooperation with you,
the company will close down,
your relationship will deteriorate,
the quality of solutions provided by the company will deteriorate.
Such situations happen frequently. As a result, you stay with a code that no company will want to take over, because, in fact, you do not know what is in it.
Therefore, when changing the platform it is worth to use open-source software and the provider, which you will be sure that in case of emergency will provide the successor with all the information necessary to start work.
You've become archaic.
Now and then a wave of changes is passing through online shops (or rather the whole Internet). Most often it is connected with changes trends in web design (for example, Material Design or Metro UI became fashionable at one time).
Sometimes there is a trend for new functionalities.
It also happens that a new version of the tool comes out, and the old one runs out of support (this was the case with Magento 2).
All this can cause that even if you didn't have any plans for a big development of the system, this plan could have come to you. Often the change of graphics is such a big project that it's worth counting whether it's a good opportunity for more far-reaching changes.
Note that this is a good opportunity to really solve most of the problems that have arisen above (agency change, new engine, getting rid of technological debt, etc.).
Summary
In an ideal world, everyone would take their first steps in e-Commerce using a sales platform that facilitates later development. Unfortunately, this is not the case for many reasons. Often novice entrepreneurs lack the knowledge or resources to bet on the best solution. With time, they begin to notice its drawbacks and the thought of change appears. If you are in such a situation, I hope that my article has at least a little brought you closer to making the right decision. Good luck!