Always Up-To-Date Guide of Facebook Image Sizes [last update: July 2019]
With the growing popularity of social media, more and more companies start to use them. Nowadays millions of brands compete with each other for the attention of members of social platforms. How to win this battle? It will certainly be helpful to know current dimensions of graphics on Facebook and other portals. After all, there is nothing worse for a social media specialist than to see how the portal automatically cropped a carefully prepared creation, depriving it of any sense.
The information in this article comes from the official Facebook Help Center.
This article is regularly updated. Last update – July 2019
Fanpage
Profile Photo size: 170 x 170 px
Cover Photo size (on personal profile): 851 x 315 px
Cover Photo size (on fanpage): 820 x 312 px
Group Cover Photo size: 1640 x 856 px (or 1,91:1 ratio)
Facebook Event Cover Photo size: 1200 x 628 px
Photo on post (feed) size: 720, 960 or 2048 px
Video: max 120 min. Maximum file size is 4,0 GB
In the Facebook Help Center, you can find a suggestion that the amount of text on advertising graphics is reflected in its effectiveness. Facebook estimates that about 20% of the amount of text in relation to graphics is a safe maximum.
Facebook Groups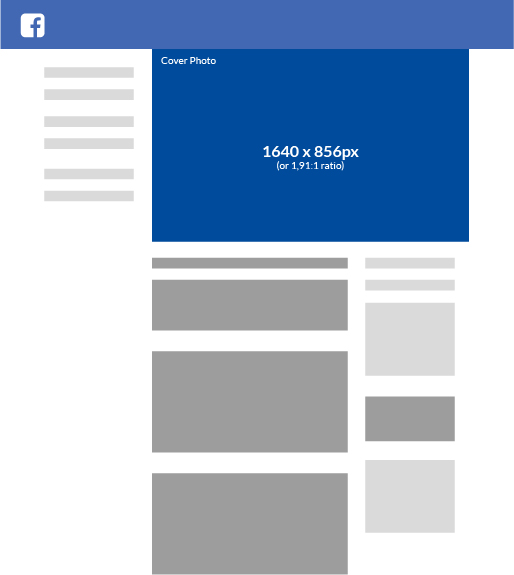 Your own group on Facebook is a great place to promote your business. Of course, we do not encourage you to aggressive advertising. Members of a group will like the substantive, valuable content (e.g. infographics or an article) much more than ads full of CTA.
When creating graphics for your group, remember that the cover photo of the group should have 1640 x 856 px (or a 1.91:1 ratio).
Facebook Events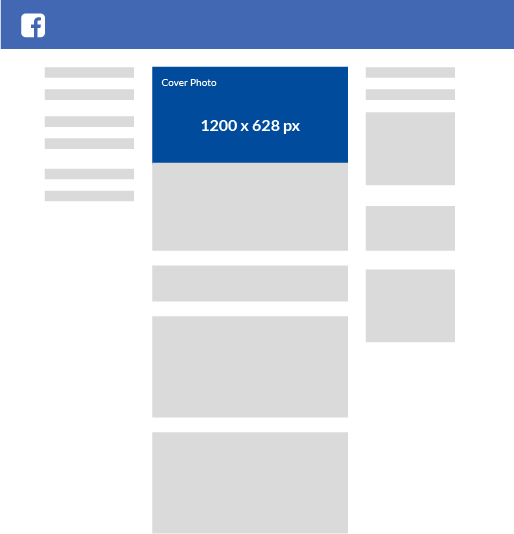 Facebook Event is an interesting medium to inform potentially interested people about an upcoming thing. The eye-catching cover photo will encourage an audience to get to know the details of the event. It should be on 1200 x 628 px format.
Facebook Ads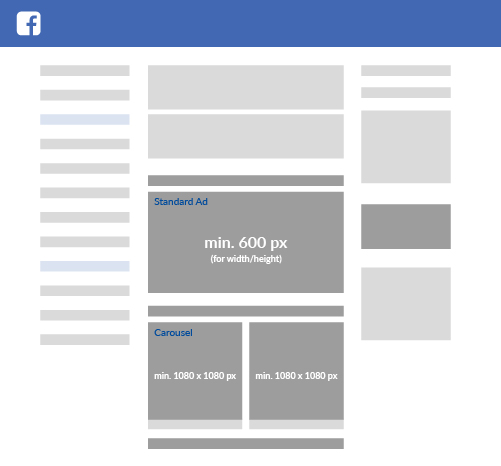 Standard Facebook Ad (min. 600 px)
For a standard photo ad on Facebook, the minimum width and height are both 600 px. Facebook also recommends sending photos of the highest possible resolution.
Facebook Carousel Ad (min. 1080 x 1080 px)
A carousel is a type of Facebook ad made of 2-10 square graphics. The recommended ratio is 1:1. If you use one side longer graphics for a carousel ad, Facebook will crop it to get the above proportions (square).
In a carousel advertisement on Facebook, you can also use video. The recommended formats are MP4 or MOV, but other formats are also allowed. Here you will find a full list of them. The maximum size of the video is 4 GB.
Summary
The above data don't need additional comment. We hope that they will be useful in your everyday work. If you have any questions, feel free to contact us.