Brand communication strategy in e-Commerce
As the economy grows, factors based on which customers make purchasing choices are also changing. More and more often, clients aren't any longer driven only by price or its relation to quality. Of course, they still have demands on this, but they want something more – to buy products from brands whose philosophy and image match their own beliefs.
Therefore, consumers want brands that are close to their hearts: those that share the same values, think and communicate as they do. It becomes clear that shops can no longer be bland and that a communication strategy isn't a whim – it's the basis.
From this article you'll find out:
What's a communication strategy;
Why your brand needs it;
How to design it;
How to measure the effectiveness of your actions.
Communication strategy. A few words of introduction
What is a brand communication strategy?
A communication strategy is a set of guidelines defining how a brand speaks about itself, its products and services.
The strategy specifies:
communication style,
topics,
channels,
formats (e.g. infographics, quizzes, white papers),
communication goals and ways to verify them.
Communication strategy – why your brand needs it?
The lack of a specific vision that a brand wants to be in the eyes of customers, and a precise plan of how to achieve it, results in communicational chaos. It's particularly noticeable in companies where different channels are operated by different employees who aren't supplied with guidelines in the form of communication strategies. In such companies, everything looks different: product descriptions are written in a professional language; in social media, the customer is treated like a buddy, and every email starts with a "Sir". That may confuse a client.
This kind of chaos can't result in anything good. That's why you need a carefully planned strategy, based on concrete actions. Today, I'll tell you how to create it.
Start with a persona
Think about who exactly is your target group. You'll communicate in a different way to a teenager, a new corporate employee or an old lady. What's more, each of the above uses different communication channels. If your target group is seniors, you shouldn't look for them on TikTok.
To create a communication strategy that will win the hearts of your customers, a Buyer Persona – the figure of a perfect client – will definitely help you. If you imagine a specific customer, it'll be easier for you to tell what he does, what's important to him, what content he considers valuable and where you can find him (both online and in the real world).
Today, we'll not focus on creating a Buyer Persona, because our Marketing Leader – Magda Kulpa – has already done it, and well, it would be hard for us to explain this better than she did ? . Here you'll find her article, which will guide you step by step through the process of creating a customer Persona: https://xcitstudio.com/blog/marketing/we-design-your-ecommerce-marketing-7-buyer-persona/
Determine the initial situation
To determine the initial situation, use the data you already have. Think about who is currently receiving the content you're producing. Is your audience similar to your Persona?
If not – it's time to find out the reason, why the previous content did not interest the dream audience?
Perhaps, you're already getting into the right target. If so – great, you're home! Now, analyze which content has been best perceived and think about why. That will help you discover what style and form of communication your audience likes.
Do a SWOT Analysis
At this stage, a SWOT Analysis will be useful. It allows you to better understand the strengths and weaknesses of the company, the opportunities you're facing and the threats you have to be aware of.
While doing a SWOT Analysis you have to think about:
Strengths – a set of advantages that make a brand stand out. They can be e.g. unique products, competitive prices, the shortest delivery time on the market, etc;
Weaknesses – Every brand has its weaknesses. For example low recognition, long time of delivery (it's a common problem with dropshipping), unclear website, etc. It's good to know them to be able to work on them.
Opportunities – External circumstances from which a brand can benefit, e.g. market gap, trends, upcoming events where you can present your product/service, etc;
Threats – Everything that threatens your brand: strong competition, rising unemployment (if you sell e.g. luxury goods), etc.
You should complete the data in the individual fields in the order from the most important to the least important.
Example: failures on the website are a greater threat to the brand than the lack of a subpage "About us".
Take a look at the competition
There's no point in reinventing the wheel – you'll agree with that. It also makes no sense to copy 1:1 competition's solutions. The best thing to do is to find a good balance between the two.
Take a look at how the competition communicates. Pay attention to:
what kind of materials they release,
which channels and formats they're using,
how do they promote their content.
Focus not only on the actions but also on how the audience reacts to them. You shouldn't duplicate ineffective actions, but rather look for gaps in your strategy. Think about what the competition does and what effects its results. Perhaps they're releasing valuable e-books – and you should also? Or maybe they use real-time marketing or monitor mentions about a company and quickly react to them?
Whatever your competitors do to make customers happy, consider taking similar action. After all, your customers aren't so different and these actions may also appeal to their taste.
Identify your strengths
When you find out what the competition is doing, you should see what makes you stand out from them. Probably the first thing that comes to your mind is the price or quality of your products, but try to think a little bit more outside the box. Maybe you have super employees that can be the face of your brand? Or maybe the production process itself is so interesting that it's worth to show it?
Also, consider what the customer gets in the end:
Define the big idea
The big idea is the guiding theme for whole communication. By defining it, you and your marketing, and customer service team will never lose sight of the primary message you want to spread among your audience.
The big idea will also help you to develop a strategy. Knowing what's the main theme of your communication, it'll be easier for you to find a way to convey it.

The Big Idea of BelVita is giving the customers the energy for better mornings. If you look closer at the ads of this company, you'll see that every advertisement includes this theme.
This consistent strategy let BelVita become the first choice when it comes to buying a quick breakfast.
Define the tone of voice and forms of communication
Not only the message is important, but also how it'll be served. The tone of voice is a unique way of communication that makes a brand recognizable. It should be defined based on the target group. Use the aforementioned personas to create it.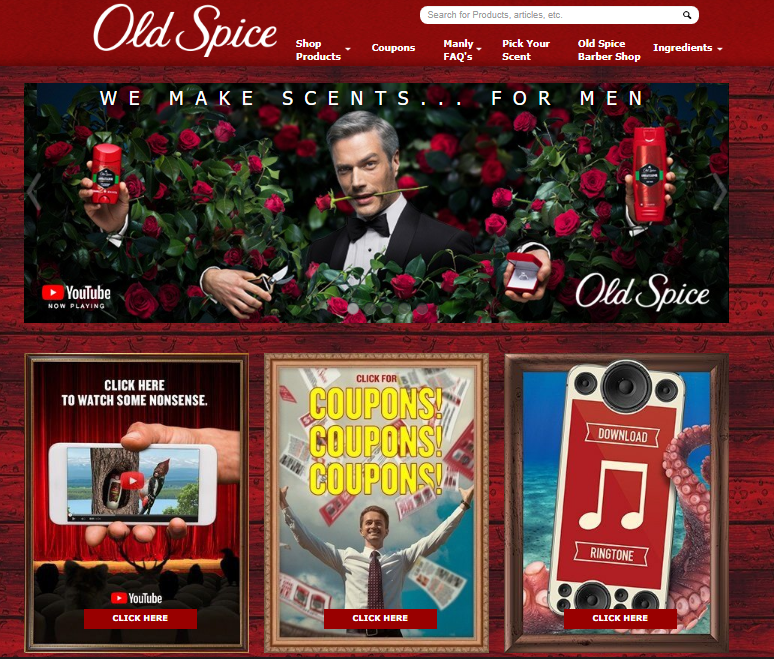 Example: for a long time Old Spice is developing the same, unique tone of voice – ironic and hilarious. They're coherent in this strategy: you can notice it on their webpage, Facebook page, and in every ad.
Apart from defining the tone of voice, it's also good to choose proper formats. Think about your audience's preferences. There is a lot to choose from:
articles,
e-books,
infographics,
video tutorials,
presentations,
podcasts
etc.
Referring to the previous paragraphs, try to figure out what works for you and your competitors.
Select the right channels
At this stage, you should know:
who your customers are,
what makes you stand out from the competition.
Can anything go wrong at this stage? Of course! That can happen when you place all this carefully thought-out communication in the wrong channels. How to choose the right ones? Here we go back to the personas. Knowing who your audience is will make it easier for you to find out where to find them.
Once you know that, organize everything using the publication calendar. It's a document in which you can plan specific actions of your communication strategy. It should contain information about what you plan to publish, when and where. It gives you not only a bigger picture of what should happen soon but also indicates what remains to be done and makes it easier to verify the results.
Measure your results
If you're reading this article, you want to work smart. For this, you need not only the strategy but clearly defined goals and KPIs. Let's start with the first one.
Set communication goals
If you have conducted a SWOT analysis, you already know what the strengths and weaknesses of your brand are. Use this knowledge to set communication goals.
Example: Your weakness is low brand recognition. So you should set your goal to boost it. You can do this by e.g. appearing as a speaker at industry events (opportunities).
You should consider your objectives in two categories: strategic and short-term. The former is your aspirations in the long-term. Short-term goals are a way to achieve strategic goals, they should result from them.
Example: Your strategic goal is to achieve the image of an expert in the industry. Short-term goals that support it are:
Publication and distribution of X (number depending on the industry) of substantive publications which will meet with a positive reaction of the audience;
Get X unique users monthly on your company blog;
Speaking on X (number depends on the industry) of industry events as an expert; etc.
Remember that your goals are S.M.A.R.T., i.e:
Specific – A goal should be clearly defined. You should know exactly what you want to achieve
Measurable – It's hard to measure a goal named "succeed in social media". You much easier measure a goal called "get 100 new Facebook fans in the next quarter"
Achievable – Your goals should be realistic. If no one heard about your newsletter yet, you're probably can't gain 80% conversion from your first mail, but getting hundreds of first recipients is a properly defined goal;
Relevant – The goal should make sense, i.e. it should be a step forward;
Time-bound – Set a deadline for each target. Remember to be realistic.
Check it out!
Each of the goals you set should have a method of measuring it. We're talking about Key Performance Indicators (KPIs). As a reminder, they differ from the usual indicators in that they are used to measure actions that have a key impact on the overall effectiveness of your companies.
What to measure? Due to the specificity of goals, you have to find out the answer to this question for yourself. However, it's worth to monitor brand recognition and client association with them (by using the NPS – Net Promoter Score, for example). Here you will find more KPIs that are worth to measure.
To sum up
Brand communication strategy is worth to have – not only in e-Commerce. I hope that this article made creating it easier for you. Good luck!