We design your e-Commerce marketing #3 — building customer awareness
On the one hand, holidays are the time when our clients are, well…. on holidays. And this should support the process of writing new guides for you. On the other hand, holiday time is also in X-Coding, and this, in turn, isn't left much of free time for those who stay :). Anyway, today I give you the third part of the guide on building effective marketing in e-Commerce. The third part is the most important in the context of building the right outreach. Today I will tell you how to build a top of the marketing funnel in e-Commerce, i.e. respond to the needs of customers in the awareness phase.
What is customer awareness
To be able to recognize that the user is in your marketing funnel, two things have to happen at the same time: the user finds out that he or she has a problem that needs to be solved, the user finds out about you/your shop/your company as the solution. If one of these things doesn't happen, you will only "make noise", which has no greater monetary value, or you will be a great specialist who educates the market but gain little of it. This wouldn't be good news for an online store with the exact opposite objective.
Activities that you take to direct the attention of "quality" users to your offer are building customer awareness and also the highest stage of the marketing funnel of your e-Commerce.
Subtle message
Note that you go through a few paragraphs and I still said nothing about sales. In fact, this is the case – building users' awareness is only the first step in building relationships, which may one day result in a conversion.
To better understand the idea, reverse the situation. None of us likes telephone consultants who randomly picked our number and, before we say anything at all, flood us with an avalanche of information. In fact, each of us simply wants to hang off the phone (some don't even have the courtesy to wait for the person on the other side to finish) and add the number to a blacklist. At such moments it's difficult to think at all about whether we need this service.
With e-commerce marketing is exactly the same. If you manage your budget, you are probably tempted to spend money on an aggressive message saying that you are the cheapest, the best, the fastest and by the way eco-friendly. However, you lose a bunch of people who don't really know that they have a problem to solve.
How to power the top of the funnel?
Let's move on to concrete actions. Our goal is to build a marketing strategy that at this stage will show the problem as many users as possible and will position you as a potential solution provider. I would like to remind you that we focus on education and reach, not on sales (salespeople are resting before the next parts ?).
Let's go back to Customer Journey Map
To make a good start (and by the way the whole series of articles made sense), we will first complete the awareness phase in our Customer Journey Map. I would like to remind what's important (from the customer's point of view):
What does he do?
What does he think?
What problems he has?
What touchpoint he can have with us?
What we can offer him?
Your business weak points.

Let's make the following assumptions for example:
you run a shop with lighting,
your customers are large companies that you are supplying with energy-efficient lighting,
you want to reach new companies.
How could the beginning of your customer's journey look like?

| Question | Example | How does it look like in your company? |
| --- | --- | --- |
| What does the user do | optimizes the operating costs of the company, contacts with the supplier | |
| What does he think? | How to improve financial results? | |
| What problems he has? | lack of reliable knowledge | |
| What touchpoint he can have with you? | e-Commerce, office equipment fair | |
| What we can offer him? | energy calculator, tips on how to save operating costs, environmental guides | |
| Your business weak points | lack of content, non-functional calculator, inconvenient online shop, lack of knowledge base | |
You can create a lot of tables (for example, individually for each person), or you can fill it with a lot of different activities, which will respond to the needs of your customers. I encourage you to brainstorm inside the company, you will gain a lot of interesting knowledge, which can come along with thoughts on building awareness.
Learn how to give
Once you understand who you are talking to and know the needs of each target group, there is nothing left to do but to start meeting them. There are plenty of things you can give away for free to your customers. This is best illustrated by this article – we share our knowledge with no expectations, just to educate the market.
Knowledge is not the only "gift" that you can offer to your users. Any kind of facilitation:
the already mentioned energy calculator,
product wizards,
configurators,
bidding tools,
etc.
are things that are often inaccessible and at the same time very necessary on a daily basis. Every company would like its shop to be the number one page when it comes to visiting during work. If you make this task easier for your users, you have a chance that they will not have to remember you, because you will be with them all the time.

Be an expert
Of course, simplify work is one thing, but you shouldn't forget that "content is a king". A website rich in content is a website:
attractive for users,
inspiring trust,
liked by search engines.
That's why the investment in quality content usually pays off (though in the long term). Here again (and I will talk about it until you get bored) I remind you that the content is supposed to be useful for your customers, not you (i.e. focus on solving problems of your customers and not vaunting your company). While I have nothing against subtle self-advertising, the super sponsored post will not bring you more fame.
There is still a question – where to publish? You can use your own knowledge base and blog, but also all kinds of industry places, the list of which you can create at the Customer Journey Map designing stage (expert blogs, guides, reports, etc.).
Get visitors on your website
You know what content, you know what tools. You also know who are your clients. The question remains – how?
This is the second part of building awareness process. Your target group simply has to know you in order to be able to appreciate all the effort you have put into making their lives easier. Otherwise, you can't count on a return even the costs incurred for the content and solutions in your store.
Start by reviewing the channels that you use to generate traffic. Probably there will be not enough of them, and the ones you have are not measured as they should (sad, but true). This is the minimum that you should take into account when building the range:
organic (i.e. high presence in search engines),
paid traffic (AdWords),
display network (graphic advertisements as part of remarketing),
social media,
magazines,
discussion groups,
industry events,
etc.
It all amount to one correct conclusion – build a decent content marketing strategy. Thanks to that:
You will know what, where and how to publish,
You will easily set performance indicators for each channel,
It will be easier for you to scale your growth.
Remember to avoid just "palaver", you need measurable effects to know how fast you're moving forward.

Companies that do it well
Ikea
A well-known example of a company that effectively engages customers is Ikea. The idea of the brand is to provide people with better experience of everyday life thanks to their products. It reaches its customers through an inspiring blog and apt advertising campaigns, almost each of which becomes a viral in a short period of time. Ikea products are not just simple furniture, but a way to express yourself and create a living space that is perfect for its owners. If you see their advertisements, you will notice that the brand accompanies customers in all the important moments of their lives – from the carefree life of a single in a small (but tastefully decorated) flat, through preparing the house for the birth of a child, to family dinners at a large, gateleg table – from Ikea, of course.
This is a perfect example of how, while maintaining a consistent brand image, to reach customers of different ages and at different stages of life. Ikea went a step further with the idea of a marketing funnel and designed the customers' journey map focused on their visit to the store: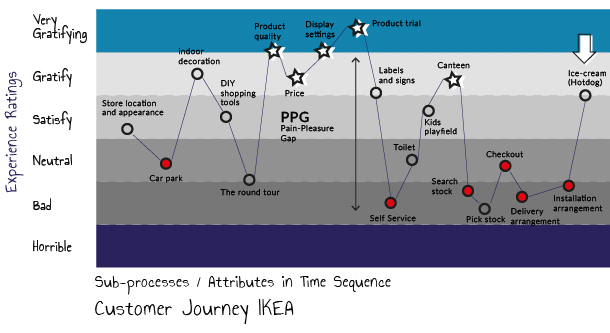 Apple
Another well-known example of a brand which is great using customer journey map is Apple. Apple devices are familiar to almost everyone, which proves the effectiveness of Apples' activating potential customers in the awareness phase. From the very beginning of its existence, the brand's products have been an interesting alternative to the standard approach to computer design, which was based only on its functionality, omitting aesthetics. Apple in its advertisements focuses on beauty and minimalism – and wins. The awareness phase is not the only stage of Apple's marketing funnel, which is worth following. An interesting example of customer activation is also the decision phase. Demonstration products in company stores help to overcome the clients' resistance and encourage them to buy.
Naturally Curly
A more niche example of a well-designed marketing funnel is the one created by Naturally Curly, a company producing cosmetics for curly hair. The brand builds awareness of its target group by offering dedicated tools – a quiz to determine the type of hair and select the right hair care products, and a weather forecast to predict the look of the hair on a given day. This is a good example of added value, which I mentioned a few paragraphs above. Of course, the brand materials have been subtly woven into its products as well. You can see the final effect on the Naturally Curly website.
Brand24
Polish company – Brand24, can be used as an example of effective customer awareness building. In Poland, there is practically no longer a marketer who would not mention this company when asked for an Internet monitoring tool. Brand24 has gained attention through practical articles dedicated to their target group, regularly updated channel on YouTube, and some virals (including my favorite). The video from the link above is a good example of building a brand image, which is based not only on professionalism but also shows its "human face".
Summary
I would like you to finish reading this article with a strong resolve to strengthen the top of your marketing funnel. I hope I have provided you with some tools to help you achieve this goal. If you still have doubts about designing customer journey map, I recommend reading the two previous articles in this cycle (you will find them in links below).