We design your e-Commerce marketing #5 — decision process
Next stage of marketing in e-Commerce is right ahead of us.
Good news is – all you did in the previous parts will start paying back. Your client is not only aware of the problem and its possible solutions. Your client is also really close to making a buying decision.
What's next?
A person is aware that the problem needs solving. The only thing that's left is by which product? That's when a comparison of offers, research about the companies and possible profit calculations comes into play.
In other words. We now focus on the decision phase. We will use marketing in order to make a sale.
Is this the first article you came upon from this series? If it is then I advise you to catch up with us. You can find the fourth part over here. You will learn how to make a market aware of its problems and navigate it straight to your solution.
You are probably not the only one
Once, we could open a shop and be leaders in our sector. Today it is much more difficult – presence alone is not enough.
The time when there was one supplier of a given product is gone forever for almost every industry. Unless you are in a rare niche, you have to put more effort into making your offer the best one among the competition.
What does "the best" mean?
It all depends. In FMCG, it can be a price. In industrial automation, it might be delivery times. In the case of specialist products, trust in the supplier.
Also, there are additional components:
completeness of the offer,
additional services,
after-sales support,
etc.
The sum of all above will determinate the winner in the race for the customer.
So much when it comes to B2C. In B2B there are even more distinctions. Those are related to the character of each company.
There's a lot of it. On the one hand, it's bad news because you'll have to work hard. On the other, the lack of one argument (for example a low price) doesn't eliminate you from the fight for a customer.
Back again to CJM
It is impossible to overestimate a well-developed plan.
So we come back to the exercise in which you will try to understand your client. Why should he buy from you and not from your competitor? What distinguishes you?
Complete the table in a way that suits your company.
| Question | Example | What does it look like in your company? |
| --- | --- | --- |
| What does a user do? | Compares offers, checks additional services, reads reviews about the store | … |
| What does user think? | Is the offer worth it? | … |
| What are the current problems? | Too little information to make a conscious decision | … |
| What are the touchpoints? | A site about the product, consultant off-line/online, pages with opinions about shops | … |
| What can we offer? | Comprehensive product information, knowledge bases and guides, product reviews and tests, additional services | … |
| What are our weaknesses? | low-quality product descriptions, lack of reliable comparisons, low ratings of the shop in opinion-forming services | … |
Conclusion? Content is (still) the king
While reading this and previous articles, you've probably noticed that we're putting emphasis on making valuable content.
The thing that is changing is the subject matter. In short:
you write about market problems first,
then you write about the solutions,
now you are writing why your (product, service or company in general) is the best possible one out there.
The above diagram is a result of the fact that we have more and more conscious customers. In the past they used to contact us directly, now it may boil down to placing (or not) an order. Thus, at each stage of their journey, you should make sure that they move towards your sales.
How to improve decision-making processes?
You already know what to focus on.
It's time to turn it into actions that will give you a real competitive advantage. But remember to ask yourself. Why would you buy your own product in the first place?
Invest in product presentation
Let's start with the essence of the matter, that is, what your customer finally buys. Let's start with the substance of the matter, that is, what your customer finally buys. Your product should have a perfect description in order to encourage purchase as well as making a good choice. The description also should answer questions before the customer asks them somewhere else.

What to pay attention to?
the description should exhaust all information on the product;
the form should be pleasing to the eye;
description and photos should allow to "visualize the product" (for example, if you sell bags, it is worth adding a model to visualize the size);
don't forget the technical data;
buying the product should not be stressful (i.e. if you sell products adjustable by size, the measurement instructions should come easy);
remember about customer objections, show transport safety, inform about quick delivery, etc;
allow users to compare products.
As you will rightly notice, this is a great deal of information. That's why it's worth considering implementing a PIM (product information management), which will help activities related to products. One of those solutions may be Akeneo.
Be a trusted shop
As I said before, you are probably not the only company offering the product. So why buy from you?
Besides. What you have grown in the previous stages of the funnel, it is also worth working on your image on the internet, which is generated by:
opinions about products themselves, reviews about your shop.
This is the so-called "social proof", which is one of the key factors influencing purchasing decisions. Often customers (including me) are able to pay for the security of purchase, which is guaranteed by a well-established opinion in the market. Make sure that image that you've established about you works for your success.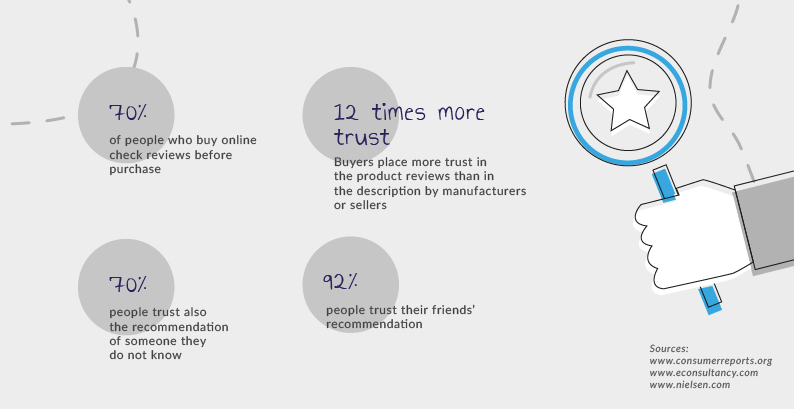 What to avoid? First of all, the paid opinions. Believe me, it will come out sooner or later.
Remember that people write about problems much more often than about good service (because this should be the standard). Use market monitoring tools and react to such situations. One of the tools to do this effectively may be Brand24.
What else apart from the product? Remember that people (with a few exceptions) don't buy a product to own a product, but to solve their problems. After all, we spent so much time in the awareness and interest phase that you can now sell not the product but the solution.
So think about what is really your solution? What set does your customer expect?
Some examples for inspiration:
While selling roller blinds, the full solution could be installed;
If you sell furniture to size, the measurement and arrangement service will surely work to your advantage;
If you are selling delicate or expensive products, customers will expect insurance for the package;
When selling RTV equipment, customers will most often need accessories to connect the equipment at home.
Examples can be multiplied, and you, knowing the problems of your customers, will surely invent your own.
Offer your help
What is obvious to you, to your customers can be a way through an agony. Back in a day on a blog, I shared my experience about buying music playing equipment for my house. Then the help of a consultant made me make a conscious purchase. To this day I am a happy customer.
The best strategy is this – UX and so much information that there is nothing to ask about. Sounds great but reality shows that there is always an additional question ?. That's why you should expose technical support (preferably in the live-chat version), that is effective. Chatbots can also come helpful, with helping a client in making decisions.
Be attractive to the customer
Apart from a product and additional services, there is also the question of your company and what you can offer to your customer. This is particularly important in B2B space. Purchasing and the decision-making process is very long. It is important to build the right relationship within it.
What do you need to present in order to be attractive in the eyes of the customer?
attractive price model – B2B buys a little differently, especially in terms of quantity. Additional price levels certainly reinforce the need to buy. If you also provide a consistent off- and online model, you have a real chance to build a relationship;

loyalty programs – what used to be an option back in a day is now practically a standard. Increasing number of shops are building loyalty programs which make a customer more willing to come back;

credit limits – a part of the industry even requires the possibility of crediting purchases. You should consider introducing it;

quick order processing – imagine that you are working in production. The engine has just got off the machine. The cost of downtime counts in tens of thousands per hour. Delivery time is 2 weeks. Would you buy it? I don't think so. Whenever the time weights in gold, you will surely win if you offer quick realization of an order. This can be a very big competitive advantage.
Let's summarize
You are almost at the end of the customer's path. The next (and the last) article will be about how to close a sale. But before that happens, you have a lot of work to do on the brand image of your shop, your products, and your company.
Good luck!