We design your e-Commerce marketing #6 – ready for purchase
Since "lights" and later "camera" were said, the sentence must naturally end with "action". The guide to marketing design in e-Commerce will end no different. If we managed to guide the client through the whole decision-making process, what could go wrong? As it turns out – quite a lot if you look at the statistics of even abandoned baskets. And that's what we're talking about today. Of course, I will use my right to advertise and invite you to read the previous part, where we were thinking about how decisions are made.
We went through 5 parts, during which we worked to make the customer aware of the problems (or opportunities if you are an optimist ?), we gave him solutions and tried to prove that our offer is the best.
And we succeeded.

Even on the home stretch, there are things that can happen that will effectively pull the customer away from you.
I remember once negotiating with a company on a project to implement very large e-commerce. Actually, everything went very well, we were a definite favorite among the competition. We practically agreed on all levels until the moment of signing a contract.
I don't think you'll be surprised (because what could be other meaning of this anecdote) that we haven't signed the contract. Why? Because we settle in the T&M model, and our client wanted a fix price. From this event, I took one very important lesson – to talk about important issues much earlier.
What does my contract have to do with your e-commerce?
Much more than it might seem at the beginning.
According to statistics, up to 70% of shopping carts in online shops are discarded. This means that a customer puts energy into completing (at least partly) the order, go through your offer, and finally did not make a purchase.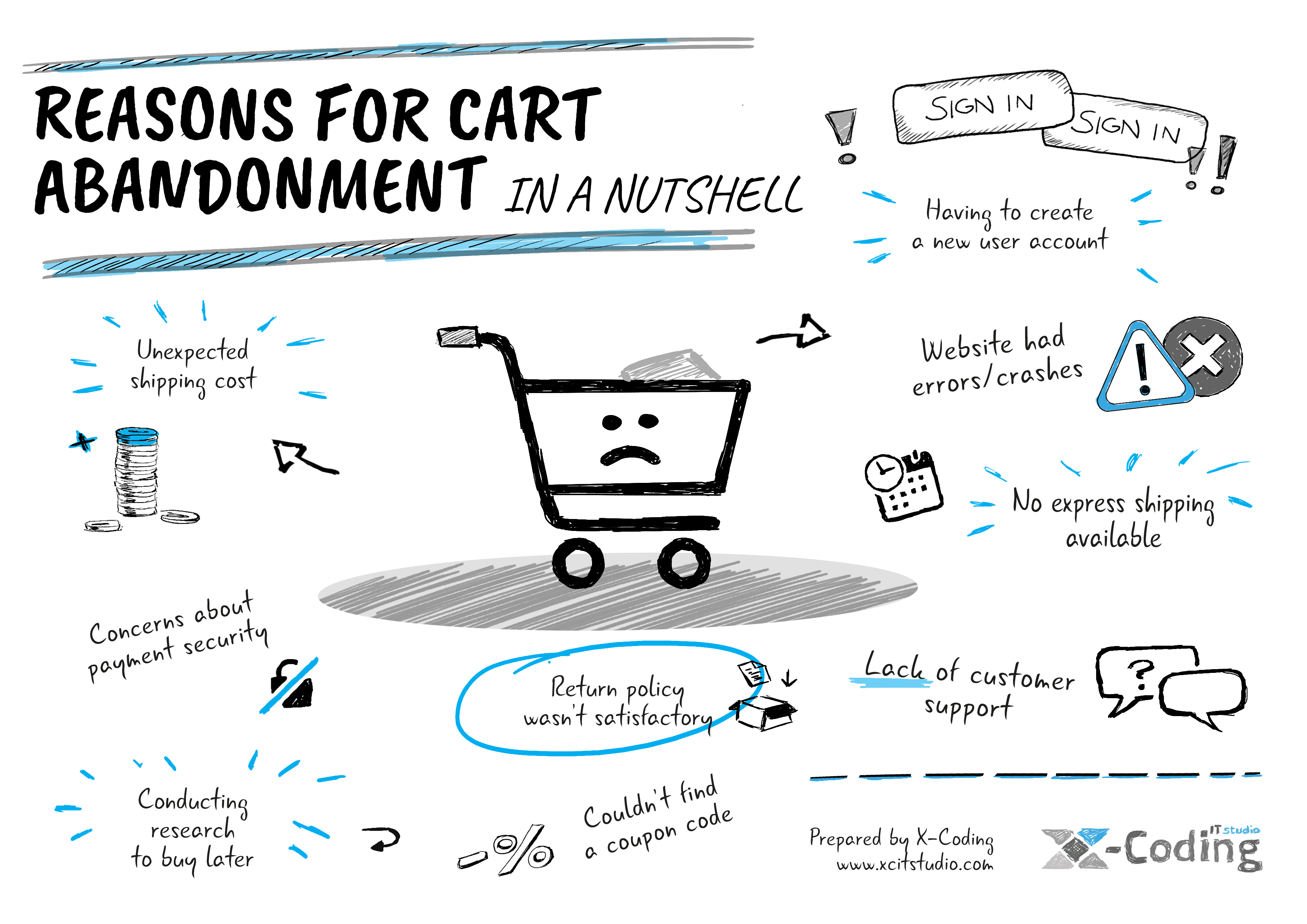 Of course, he didn't necessarily have to make this purchase from your competitors (or even at all), maybe he thought about it, but, in any case, it's worth looking at these numbers, because it's a lot of money.
Most frequent reasons for abandoning shopping carts are:
hidden costs,
an obligation to open an account
complex purchasing process,
errors in a shop which make it impossible to make a purchase,
lack of security (or general lack of trust in the shop),
inadequate return policy.
Coming back to my example, we also have more reasons for "abandoning our offer" than the contract itself. However, it is important that you:
are aware of a customers' objections,
skillfully defended against them,
recovered what can still be recovered.
How to get started? Of course, the same as before ?.
For the last time, we return to Customer Journey Map

Yes, we go back to CJM. By the way, the exercise itself was clearly to the readers' liking, because I got even a few tables to check.
This time we are answering questions about what is happening with a customer when he is ready to buy.
| Question | Example | What does it look like in your company? |
| --- | --- | --- |
| What does a user do? | Counts purchase costs, verifies cost-effectiveness, checks the security of purchase | … |
| What does a user think? | Will a product arrive on time? | … |
| What are the current problems? | Hidden costs, unclear purchasing process, no return policy | … |
| What are the touchpoints? | Purchasing process, online consultant | … |
| What can we offer him? | Delivery guarantee, as many delivery and payment methods as possible | … |
| What are our weaknesses? | Non-functional purchasing process | … |
Customers are worried till the very end
If you are dealing with a returning client (preferably one who would give you 9-10/10 in NPS scale), the action phase is rather short. Just another shopping.
Otherwise, the plot thickens. Remember the last Christmas? December 18, and you without gifts. Christmas Eve on Sunday. On Saturday they don't deliver. Do you remember how you wondered three times if you click "I order with payment obligation"?
Well, and even if you don't remember, it will be easy for you to feel a situation. There is a whole lot of doubts of this kind. Once my watch broke down. Unfortunately, the only shop that still had it in an offer looked… it didn't look. Additionally, there was no option to pay for an order upon receipt. Waiting for the product was unbearable.
Let a customer become your customer
History about watch and Christmas are certainly not the only examples. That's why we supplement customer journey maps to find all the reasons why someone can leave us without buying; identify those we can influence and act proactively in order to increase our sales opportunities. Is it worth it? Return to the statistics from the previous chapter. There is something to fight for.
Do not hide costs
The worst thing you can do is to hide your costs in your store. Commission on payments? An additional the cost of delivery? Small prints?
It will not work.

Some of the cost drivers are not only unfair but may also raise legal questions. However, if you decide to pay additional fees, remember not to surprise your customers and show them as soon as possible.
Work on UX
An ideal checkout is, like everything else in nature, quite an unrealistic dream.

Remember, however, that some baskets are abandoned due to an incomprehensible purchasing process. It should be tailored to your target, i.e. it is important that you take into account:
industry,
targeted group.
Regardless of what kind of project you invent, it is necessary to verify assumptions and simply – test. Be aware of most frequent abandonment reason that occurs and which factors influence a change in conversion. What is worth checking?
a number of steps in a purchasing process,
order in which fields are filled in,
self-completing forms,
address book,
a possibility of purchase as a guest.
Be the way the customer needs it
Customers have very different delivery and payment preferences. Did you know that in smaller cities it makes sense to know if delivery is done by DHL or UPS? You may find that one travels in a particular area in the morning and the other one in the afternoon (and the first one is a good colleague of a client) and people, having this knowledge, somehow control a pickup time.
This is a rather exotic example (I was surprised myself), but it shows well that the more you allow your customers to do, the greater the chance that they will leave their money with you.
Coming back to the process itself, in terms of payment you should pay attention to:
online payment,
transfer to an account,
credit limit,
deferred payment,
payment on receipt,
payment in installments.
When it comes to delivery options, the minimum to think about is;
courier,
pick up at a warehouse (or another pick-up point, for example in a stationary shop),
express transport,
insured transport,
parcel machine (even in B2B).
Is that all? Of course not. For example, in B2B customers like to negotiate and will be happy to use this option at the purchase stage. It is important that this is due to your CJM.
Summary
What to say at the end of several dozen pages of a guide?
Good luck? No, it's not enough.
I hope that this book has brought you closer to understanding how marketing can contribute to your sales success. Some activities will expand the funnel at the top, some at the bottom – but each at the end of the day should improve your statistics. If you have questions, catch me on LinkedIn, I'm sure I'll be happy to help you. Meanwhile – (and now it makes sense) good luck!