We design your e-Commerce marketing #7 — Buyer Persona
As you probably remember, the article "We design your e-Commerce marketing #6 – ready for purchase?" was to finish preparations for Customer Journey Map design. But how to start with creating a customer path without our main character? It could be hard! That's why I officially take over the title of the one who closes the series "We design marketing…" and I invite you to read the article about Buyer Persona.
Behind the success of any business is the customer. It is the one who generates profits, force you to constantly improve your products or services, strive for perfection and fight your weaknesses. So why do you sometimes forget to get to know him?
Does anyone know of a successful dating case where one side has focused only on itself and getting to know a partner has gone into the background? I don't. It is the same with the relationship with the customer – focusing on getting to know the customer will have a better effect than focusing on yourself.
Sure, exposing strengths is essential, but you can talk about the effectiveness of this information only when it goes to the right people, in the right form. So who is your clients and how to get to know them?
Who is Buyer Persona and why create it?
Buyer Persona is a fictional profile of a potential customer, showing its characteristics, the challenges it faces and the way in which it makes decisions. It represents the human face of the buyer. In particular:
its motivations,
its needs and problems,
shopping habits,
cyclical behaviors,
objections,
its goals.

There always will be someone, who will say that collecting pieces of information about customers is a waste of time, which is better spent on product/service development. The question is, what if our perfectly developed product does not meet the right customer? If a company spends time learning and understanding the problems faced by consumers, it will easily be able to offer them a solution. The most beautiful thing is that whatever form it would take – an article on a blog, an instructional video or an interesting infographic – your actions will show that you are trying to understand your customers. This will arouse their trust, which is the basis for building loyalty.
The only barrier to going out to customers with answers is the imagination and resources that you can spend on implementing your ideas.
If trust is not a convincing argument for you, saving time and money will surely be. Well-built personas will help you determine where to concentrate your work. If you tighten your content strategy so that it focuses on real customers, your employee is more likely not to waste time and effort on reaching the target customers – it will certainly also affect their satisfaction and further effectiveness. This improvement will be reflected in conversion results and click-through rates. You will be able to attract the most valuable visitors with your offer and thus generate valuable leads. Remember that every day dedicated to campaign for the wrong people is a wasted day (and wasted money).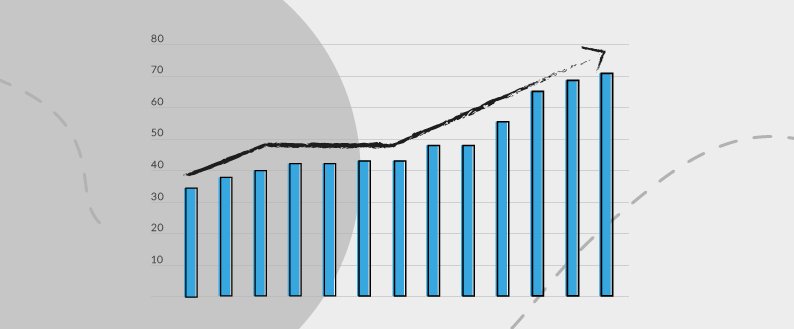 When and how to create your Personas?
At past, we faced the problem ourselves when the whole team was happy about the preparation of a great article but the results weren't impressive. Why did this happen? The article was really good, but not suitable for the target group. Nobody had thought before whether it would actually serve as a source of knowledge for our customers. We wasted energy on creating material that was valuable only to us. And that's not what it's all about.
Time and commitment devoted to increasing conversion is something that we will not get back, so creating a buyer persona should appear at the very beginning of building a communication strategy. After getting to know the characteristics of our clients, we can focus on:
creating CJM (Customer Journey Map),
presenting the products and services offered,
creating content,
selecting the right communication channel,
educating customers.
It is best to start building a buyer persona by direct contact with current customers. Who will better tell us how the customers choose a partner than someone who has just done so?
Listening is an important part of every action, so try to understand your customers' concerns, goals and expectations – this knowledge is invaluable already during the first talks with potential customers. Remember that you can also use:
interviews (live or online),
surveys – sometimes simple and quick questions will bring a large dose of knowledge,
the data that the recipients have left in your forms,
comments from the website or social media,
information collected from the Customer Help Desk.
You should be looking for data related to:
Demographic data: What is sex? What is the age? What is marital status? Where does it live? Answering these questions will help you imagine your persona as well as her private life. Education: Which schools did it attend? Has it finished education? Or maybe it is still studying? Does it attend additional courses or workshops? This information will be very useful for the sales department in their daily work, e.g. with LinkedIn.
Professional life: What position does it occupy? How did it reach this position? Is it decisive? How long does it work in this position? What is its scope of responsibilities? Does it work on its own or in a team? What role does it play in the purchasing process? This data will help you to target content and sales qualifications.
Companies: How big is the company in which it works? How many people are employed? In which industry does it operate?
Daily habits: Does it check the daily press in the morning? What materials does it like to read? What does it like to do after work? Does it spend time at home?
Challenges: What are its priorities? What does it consider a success? What key skills does it have? What professional and private challenges does it face? What fears does it have?
Shopping: What is the reason for the purchase? What can it be afraid of? What does it expect from the product? What does it expect from a business partner/shop?
These are just a few examples of questions to help you get to the right track. Depending on the model you are working in (B2B/B2C) the questions may be different from each other and some may not fit at all. Remember, the more relevant information you collect, the better.
Examples
The first approach to building a buyer persona may seem overwhelming, so let's try to go through it together. Let's assume that we run a shop with dresses for different occasions, and we sell our dresses in a stationary and online store.
Persona 1.
Kasia comes from Krakow and works as a manager in the financial industry. She doesn't want to miss anything, that's why she follows the latest trends and keeps checking the latest news from the world. She knows that she represents herself in her appearance, which is why she requires elegance and comfort from her outfit. In order to satisfy her needs, the shop owner should use non-obtrusive advertisements, take care of various possibilities of mobile payments and promote lines of their products as a premium/exclusive class. Due to Kasia's lack of time and lifestyle, it will be very profitable to advertise matches products combinations.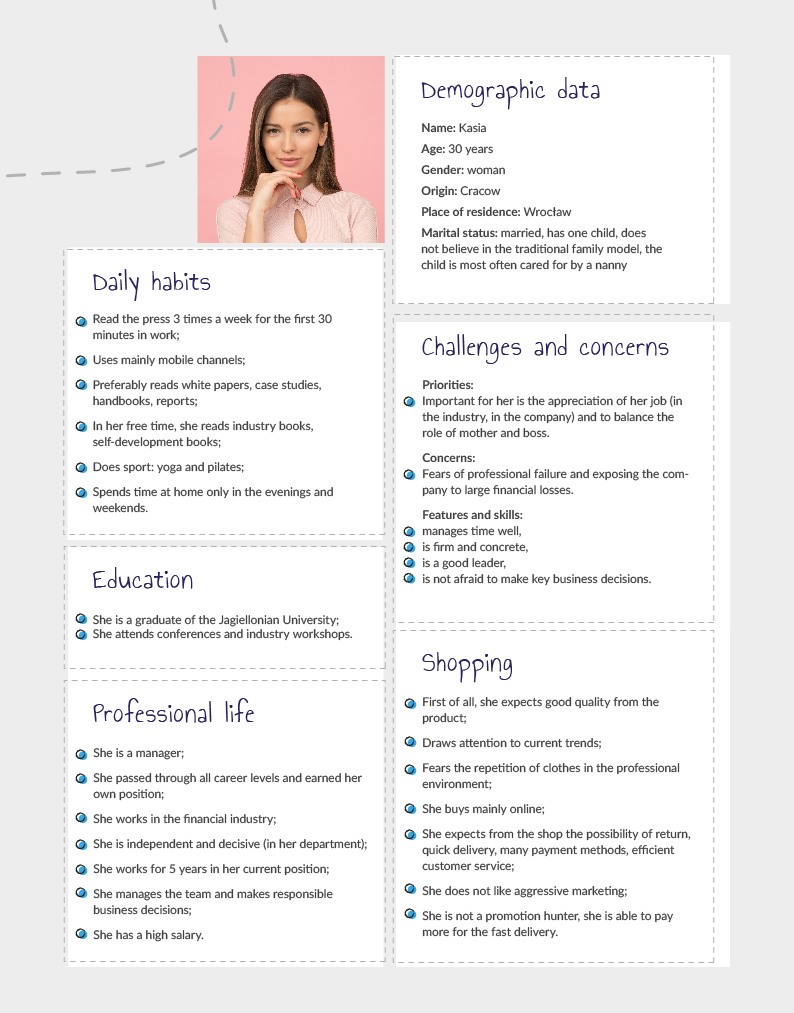 Persona 2.
Marysia comes from a small town near Wrocław, she moved because of her studies and future work. Currently, she attends an internship in a company, which in she would like to work in the future. She is an outgoing person who tries to draw as much as possible from her professional and private life. She tries to look fashionable at little cost. He often has to rush between firm and university, so for her, it is easy to read short advertisements. In Marysia's case, the best step for the seller is giving her frequent and multi-channel information about promotions in the store. Personalized messages, e.g. SMS messages with discount codes will be very welcome. Let's not forget that Marysia is from a young generation, so browsing through the products on Instagram will surely bring her closer to the purchase.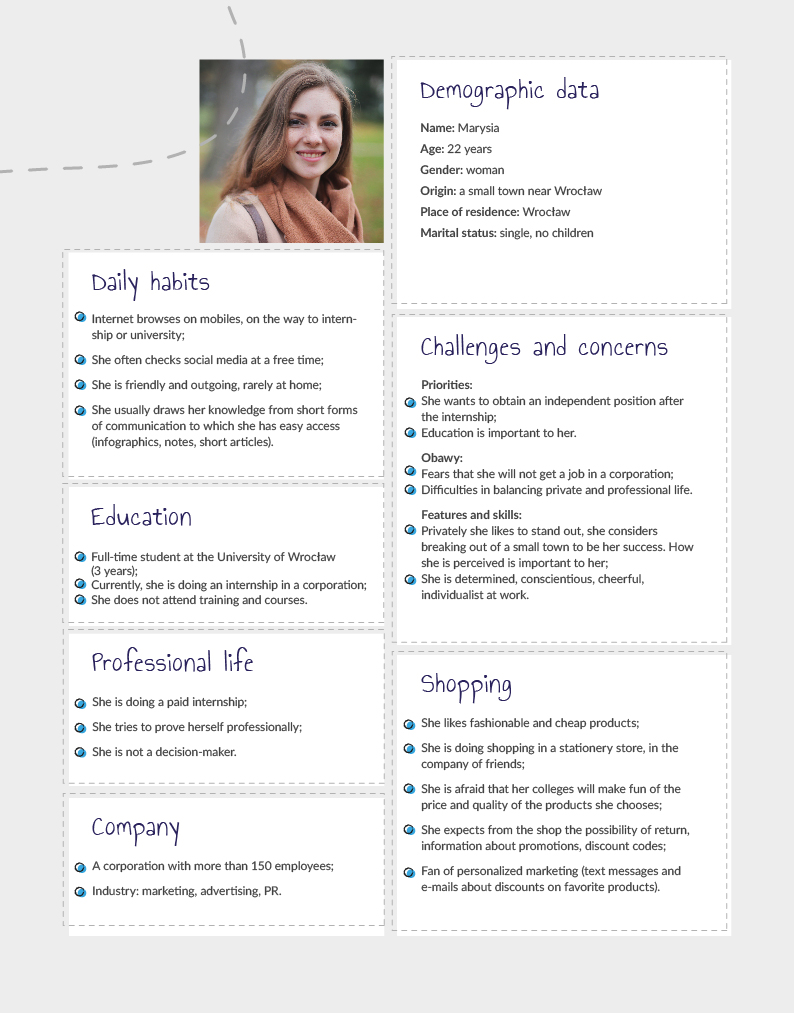 As you can see, on the basis of creating only two silhouettes, we have received valuable information to build a sales and marketing strategy.
Where to get data from? Try Google Analytics
Google Analytics, which monitors and collects information about your users on a daily basis, will be useful to collect some of the above data. When used well, it will serve as a useful knowledge base. From the reports in the "Real-time" section, you will find out what users are currently doing on the website. There you will find information about, among other things, how many users are currently on your website, how they got there and whether they are making a purchase. This is a great tip for optimizing the time of display of your ads. If most people read your materials while drinking morning coffee, you already know what transmission time will bring your conversion.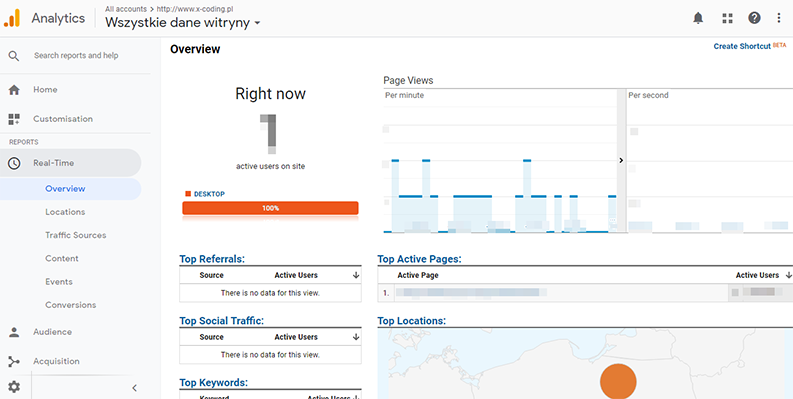 From the "Audience" tab you will get data such as age, location, gender, interests, technology. Very important may be also the information whether they are new or returning users. This will allow you to find out whether you are able to interest and attract your customers again, or whether your first contact turns out to be the last one.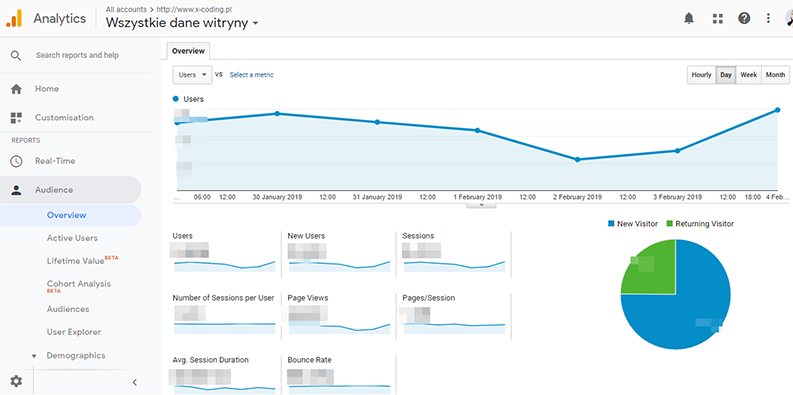 In the "Acquisition" section you will find information about the channels, which users have visited your site. In this way, you will be able to list the paid and free channels, entries from social media channels and traffic that appeared by redirecting from other sites. It's a good place to check if the traffic from paid channels is adequate to the obtained leads. If not, you should be already alarmed.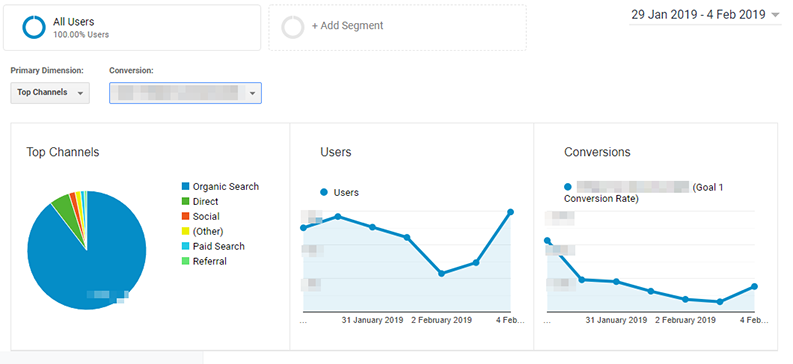 From "Behaviour" section you will find out what exactly users were doing on the website – what they were looking for on the website and how much time and attention they devoted to particular elements of the website. If you see that a particular element attracts the attention of your audience for a long time, you will know what topics are worth developing in the future.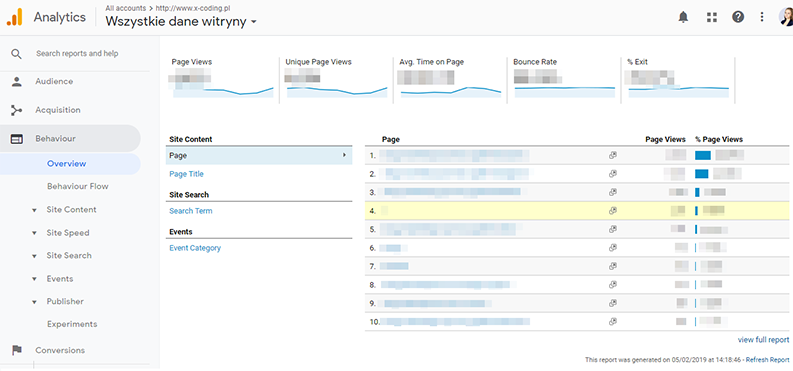 Thanks to reports from the "Conversions" section, you can monitor and improve the goals you have set for success on an ongoing basis. Only a well-chosen and controlled goal will bring results.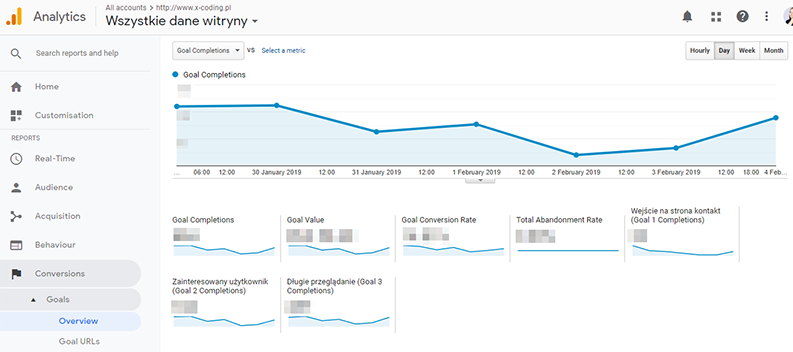 A few tips at the end:
Remember that only specific answers will be useful – do not fill in the data with a lick and a promise, because it will not bring the intended result;
It is better to leave an empty field than to make up data – if you are not able to get specific information it is better to leave a gap. False information is worthless information;
If you think that one persona is not suitable for everything, don't be afraid to create more. Considering every opportunity gives you an advantage for the future;
Draw conclusions – when you create the profile of your customer, pay attention to whether it corresponds to current trends – it can be valuable knowledge.
Now it's really the end of the series "We design your e-Commerce marketing". I hope that the article has well complemented your knowledge and now you can easily (or at least with less difficulty) design effective marketing for your e-Commerce. Good luck!