What's new in Magento 2.3? What changes can you expect?
In April 2018 Magento announced the release of a new version of the platform — Magento 2.3. More than half a year later we still don't know the release date, but we already know that Magento is preparing many surprises for us. What's new in Magento 2.3? What will the new version surprise us with, after the acquisition of Magento by Adobe?
Multi-Source Inventory (MSI)
MSI is a solution that allows you to connect multiple warehouses into one e-Commerce platform. This new feature is expected to be available for Magento Open Source (known as Community in the past) by the end of 2018.
MSI's great advantage is an algorithm based on many factors, that selects the warehouse which in turn enables the most effective delivery. It also allows for advanced dropshipping options, making many current Magento modules unnecessary.
Multi-Source Inventory is based on sources. In Magento 2.3, you can manage all sources, group them, and enter a different number of products for each of them. The new functionality changes the look of the product editing page. There will be a completely new section — "Assigned Sources", showing the codes and names of individual sources, product statuses in each of them, their quantity, as well as the number of notifications.
The MSI module also allows you to take full advantage of the ability to send orders in parts. This function can be implemented manually. As you can see, the introduction of Multi-Source Inventory brings big changes in Magento — for the better!
PWA Studio
PWA (Progressive Web Apps), i.e. websites that combine distinct advantages of applications and websites, is a strong trend in mobile commerce. Their main advantage is that the code is shared across all devices for all devices — smartphones, tablets, and computers. Because of it, any changes in PWA require editing only in a single place. This saves a lot of time, and if you pay your IT company for work hours — also money. It's also easier to maintain the code and updates. All this, thanks to one code for all devices.

With the growing popularity of Progressive Web Apps, there is also a growing demand from developers for tools that will ease their creation. Magento is to introduce a new version of PWA Studio — a set of tools for programmers, full of functionalities, making it easier to design PWA in the frontend of Magento.
We also have good news for testers — PWA Studio has been enriched with a demo site function, which will make testing it much easier.
The basic functionalities of Magento PWA Studio:
tools to personalize content and add local preferences,
build and manage all channels by one code base,
intuitive user experience (UX) thanks to an innovative trading system and CMS,
modularized component architecture to help drive opportunities for extension resellers,
specially designed tools for rapid prototyping, helpful debugging, rich feedback and increased productivity.
In the future, Magento also plans to release a ready-made PWA template, but we don't know in which version we can expect it yet.
GraphQL
GraphQL is a data query language developed by Facebook to communicate with the API server, presented in 2015. Unlike the popular REST, GraphQL offers developers a single address to request data. The results depend on the structure of a query. So GraphQL helps developers by sending only data that they are interested in (e.g. specific product information). Thanks to that everything happens faster — also on the user side.
Currently, Magento supports only REST and SOAP API queries. Support for GraphQL is very convenient for those who work in Magento on a daily basis.
Declarative Database Schema
Currently, changing the schema of the Magento database is made by writing the code using InstallSchema and UpgradeSchema. In Magento 2.3, developers will make these changes using Declarative Database Schema. This will allow you to define structures and changes in XML and restore earlier versions of modules and functionalities.
To describe this functionality in more detail, we need to go back to the beginning. In the past, a new product attribute had to be added using an update script. This caused problems (conflicts) in cases where two or more people worked on the script in parallel. Declarative Database Schema allows you to define how the final state should look like, and the system itself checks previous versions and compares them with the command.
An additional advantage of Declarative Database Schema, is that it makes updating Magento easier.

Two-factor Authentication
In order to increase security of a platform, two functionalities will appear in Magento 2.3 — two-factor authentication and Google reCAPTCHA. You can find the information about the second one in the paragraph below. Two-factor authentication is nothing more than additional verification of logging in through a security code sent to your phone or email. This option is not entirely new. The two-factor authentication was already supported by a module that can still be purchased in the Magento store.
Google reCAPTCHA
In Magento 2.3 there will also be Google reCAPTCHA, protecting websites from spam and harmful bots. The functionality is different from standard captcha, which forced users to do an interactive test to prove that he or she isn't a bot. Instead, Google reCAPTCHA works in the background, using advanced risk analysis techniques to assess the factors that differentiate people from robots.
Asynchronous and Bulk Web API
Asynchronous allows you to transfer large amounts of APIs asynchronously without waiting for a response from the server. In the traditional approach, response processing may take some time, during which a client will have to wait. The more changes and products, the longer it will take.
In contrast to the above solution, the asynchronous API in Magento 2.3 works on a queue of messages (previously reserved only for Magento Commerce edition), which allows for asynchronous execution of Web API and tasks which works in the background. This gives the possibility of easy batch processing, which is a great advantage for large stores with daily collective API requests.
Elasticsearch
Elasticsearch is a modern search engine, which owners of Magento Commerce (formerly Enterprise) version are already familiar with. In Magento 2.3, it will also be available for the Open Source version, i.e. the former Community.
To be honest, the standard Magento search engine has flaws. Many people will feel relief when they hear about its replacement with Elasticsearch. The strength of this tool lies in its high scalability, which makes it essential for all shops with many searches.
WYSIWYG
The WYSIWYG shortcut (What You See Is What You Get) says a lot about this functionality — the WYSIWYG editor works in visual mode, allowing you to see the results of your work from the very beginning.
In Magento 2.3 the WYSIWYG editor — TinyMCE — will be updated from version 3 to version 4. New customizable improvements will appear — widgets, variables, and the media gallery are implemented as plugins and can be defined globally or in a shop instance.
However, this functionality will not stay with Magento users for long. Magento is planning to remove TinyMCE3 from Magento 2.4 version. It will probably be replaced by Bluefoot.
Page Builder
The program for building websites will be a part of the source code in Magento Commerce. Thanks to Drag and Drop technology, Page Builder allows you to build websites in a visual editor. It's a great convenience for those who can't code.
The Page Builder interface, which can be found in Magento 2.3, is based on a modified Bluefoot CMS extension, that Magento bought a long time ago.
Magento Page Builder is a free extension for Magento Commerce (formerly Enterprise). For Magento Open Source (Community) there will be available a purchase option, but the price isn't known yet.
Cache-Management ACL
Magento allows you to clear the cache but does not force you to do so. Currently, depending on the privileges granted, the user may or may not have access to the cache management panel. In Magento 2.3, it's possible to configure permissions so that users can administer only selected caches, for example, configuration, but not products.
With an expert's eye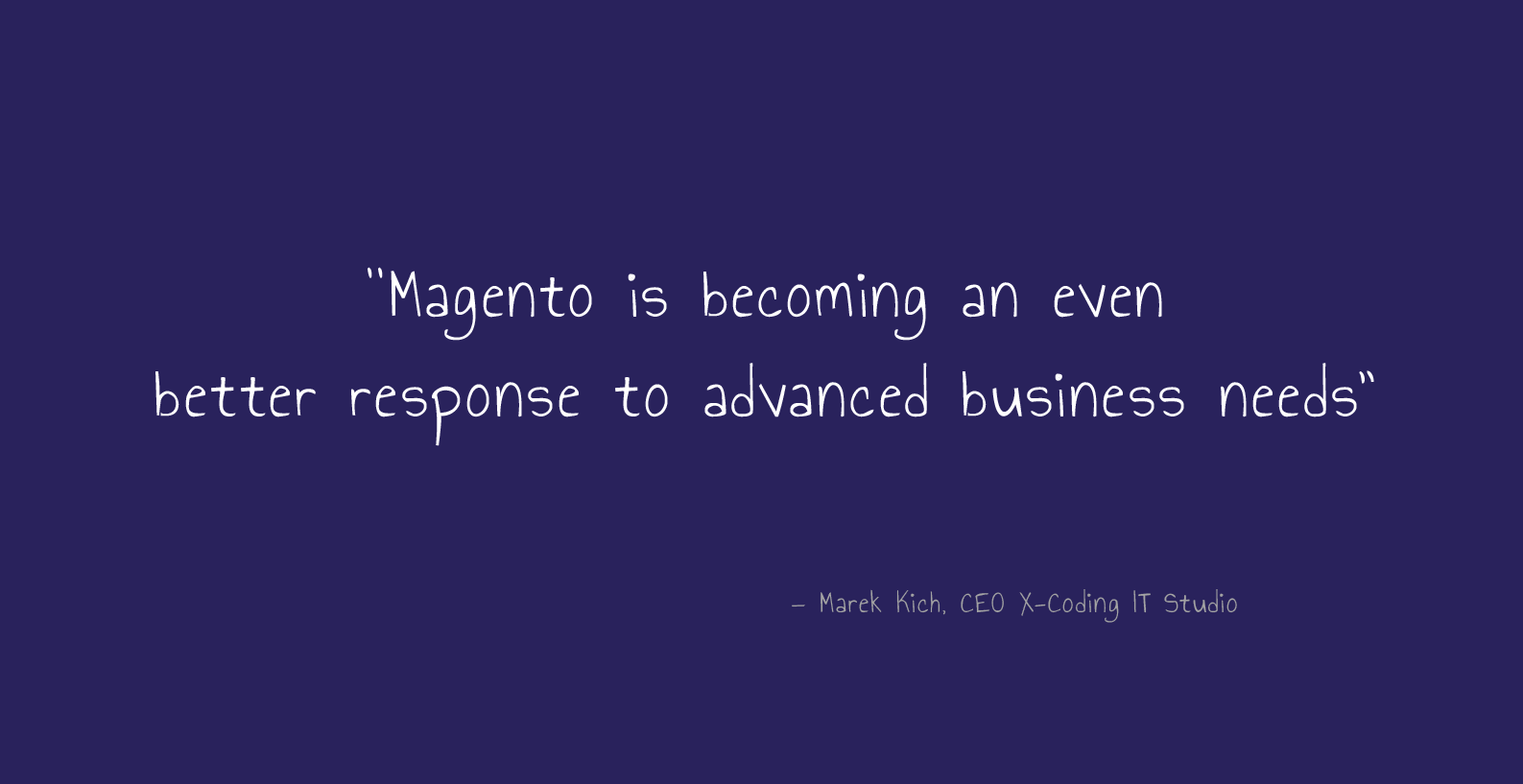 "Magento didn't have the best start when it comes to the release of the version with number 2 in front. Unfortunately, the industry still remembers how much time it took to stabilize the environment and what impact it had on early adopters.
Fortunately, those times are already behind us and finally, a real progress, which I personally missed in version 1.x, took place. What is striking is the focus on changes, which were executed during each implementation anyway (we had such a "starter pack" of modules for each new project). This makes Magento an even better response to advanced business needs and proofs that it deserves a place among the leaders of e-commerce solutions."
Marek Kich, CEO, X-Coding IT Studio
To sum it up
Magento has in store many interesting changes for its users. The most important question is: when will they be available? We don't know yet, but as soon as we know, we will share it with you immediately. Follow our social media for the news.