Mobile sales is a channel
you can not forget about.
According to reports, as many as 58% of Internet users make purchases using smartphones – and everything indicates that this number will continue to grow. The trends are also supported by Googles' policy, which promotes stores adapted to mobile devices. These are strong arguments in favour of implementing m-commerce in your company.
What happens when your e-shop is adapted to mobile devices?
Greater customer convenience
We will be honest with you – a website not adapted to mobile devices is just hard to browse. The mobile version will make it easier for your customers to make purchases anywhere, anytime and, above all, on any device.
Mobile is a bridge between on-line and off-line
Mobile commerce combines traditional and online sales. Customers, while in a stationary shop, search for the following on their phones:
product information
opinions on the product
coupons and discount codes
Cost optimization
If you decide to implement the mobile version in your store, you won't necessarily have to bear additional costs. Why?
In the case of a responsive online store, the sales platform is created once and works on thousands of devices with different screen parameters.
The change is visible immediately, everywhere and for everyone.
The store operates on the basis of one hosting and one URL.
Better SEO
Google does not hide the fact that it favors websites with mobile versions. A platform tailored to mobile devices means better positioning and thus a better chance that potential customers will find their way to your store.
How do we implement m-commerce applications?
RWD may not be enough. Then there are several ways to effectively implement m-commerce. We will select the best technologies for you and tailor solutions to the needs of your e-business.
Native applications
Native applications are those created for a specific mobile system (Android / iOS). Your customers can download them from Google Play or App Store and install them on their device. They are more expensive and require more time to run, but in the long run it really pays off.
Satisfying the needs of the company
Native applications are tailored to the requirements of the company and thus perfectly match its needs. This is important if you have a lot of individual functionality in the store.
Easier for users
By using standard interface, your users will find it easier to find themselves in the application, which in return will have a positive effect on conversion.
More possibilities
Native application = access to phone functions. And these are completely new possibilities, which depend only on your budget and creativity.
PWA
PWA is a web page that works like an application. The main distinguishing feature of Progressive Web Application is the common code for all devices – laptops, tablets and smartphones. "Ok, but it's a convenience for programmers". – You will think, "And what's in it for me?".
Saved time
Changes to PWA require only one code to be edited. This significantly reduces the time of the implementation, and if you use an hourly billing system with a software company – it also lowers the cost.
Greater project control and faster updates
The same goes for controlling the project. Specialists have only one code to view, which makes it easy to maintain. In addition, PWA applications update instantly. No wonder – all you have to do is make changes in just one code, instead of updating the version for each device separately.
Available offline
Finally, a cherry on the cake – a big advantage that PWA will provide to your customers. Applications of this type are also shown offline after downloading the content. This means that your customers can return to the application even if they do not currently have access to the Internet.
Hybrid applications
From a technical point of view, the main feature of hybrid applications is that they allow for a common code for the part of the project that combines Android and iOS. This saves time and consequently also money. Hybrids are applications that your customers can download from Google Play or App Store and install on their device.
This has several advantages:
Lower costs compared to dedicated applications
In hybrid applications most of the code is common for iOS and Android. This eliminates most of the work, making the implementation, development and maintenance of applications cheaper.
Support from Google Play and App Store
Placing your app on Apple or Google store is another channel way of promoting your store. This will give you a better chance to build wide range in terms of an audience.
No restriction when it comes to browsers
Hybrid applications run after installation on the phone, so that their users do not limit their browser functionality.
Implementation with X-Coding?
See why companies implement their m-commerce with us and become our satisfied customer: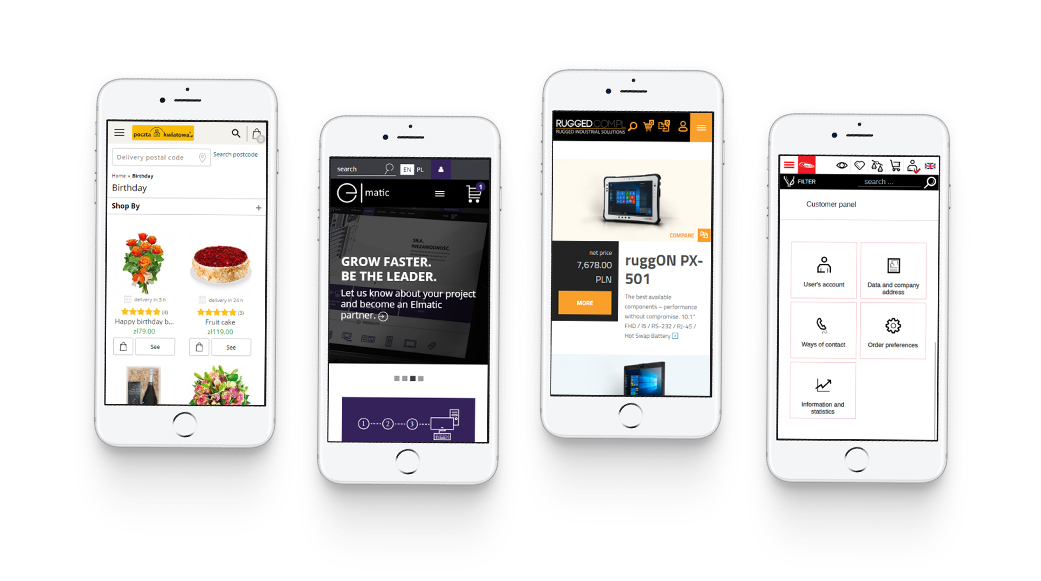 We are an e-commerce agency. You will benefit from our experience with implementations that achieve satisfactory results.
Our projects are awarded in contests (we won, among others, the e-Commerce Awards in the category of mobile implementations).
We use proven and modern technologies, so that you will always benefit from the best set of possibilities.
How can we help you?
Do you need professionals for your project? Drop us a message.
We will definitely reply!
You can also send us an e-mail or call::