Magento 2 is a complete solution for
advanced e-Commerce.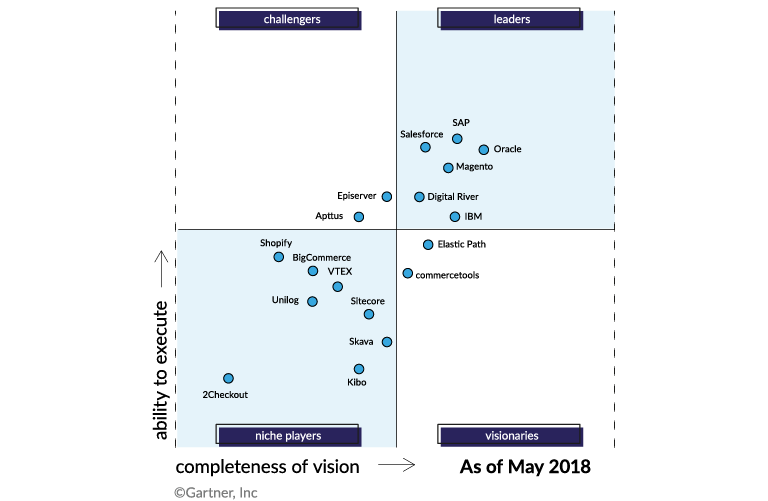 Magento is unquestionably the best e-Commerce solution in the Open Source segment. This is confirmed by the statistics. This is also confirmed by the fact that Magento is used by companies that make a difference in electronic sales.
No other solution will give you so many options at the start and your customers such well thought-out shopping experience.
Is your company ready to revolutionize its business?
The enormous potential of Magento 2
Magento is a platform with the largest "starter package". Thanks to this, your sales start immediately from a high level. We have chosen 6 reasons why you should also use this solution in your project:
Open source
Magento 2 is developed in the open source model. Because of this, your shop will work exactly the way you design it. In addition, it is a guarantee of security for you as you have no license with any particular company (the so-called "vendor lock").
Designed to sell
It will be able to cope with dynamic development, product and order growth. It is hard to imagine that one day you would reach the wall of possibilities, which cannot be said about other solutions in this segment.
Fast and scalable
Contrary to popular opinion, if you choose a good software house, Magento is fast and stable even with numerous indexes and orders. However, it also supports multi-server architecture if necessary.
Beautiful on any device
Nowadays more than 50% of customers purchase via mobile devices. This is the reason why it is important to focus on solutions that meet these needs. We assure you that Magento 2 will look perfect on every device.
A big community
Nobody likes to pay for something considered a standard. The community around Magento has grown, providing thousands of ready-made modules and taking care of the quality of the entire ecosystem.
Supports omnichannel
Modern sales means, above all, making sure your customers have the same shopping experience everywhere. Magento 2 is a shop that will enable you to easily implement an omnichannel strategy in your company.
Technology for every industry
Magento 2 is designed for multi-channel and multi-discipline sales. That is why it will work regardless of what you want to sell and to whom you want to sell. From a one-product landing page, through B2C / B2B sales to advanced omnichannel implementations, you will find here functionalities you will love.
Magento for fashion
It is a solution that has practically everything needed to sell in fashion industry.
The clothing industry for the e-Commerce customer is primarily about aesthetics, configurability and speed of operation on all devices. More advanced users will look forward to the omnichannel and the possibility of juggling between the online and off-line worlds. If you want to be competitive, you need to meet all these needs.
Magento 2 is tailored towards multi-channel sales and omnichannel implementation. In addition, it allows you to create customizable products, product sets and unlimited promotion possibilities, which will be appreciated by your customers.
B2B solutions
B2B sales is a completely different world. That is why you need special tools.
Easy integration with any ERP allows you to implement Magento 2 while maintaining efficient business processes.
Thanks to the flexibility of the tool you can easily imitate your sales model in the Internet channel.
You will surprise your customers with dedicated functionalities that will increase their loyalty and, as a result, your conversion.
Magento for Retail
B2C retail needs to be adapted to different customer needs.
Access to various forms of payment and delivery will make your shop more attractive to customers.
Since over 58% of Internet users buy on a phone, the basic responsiveness of Magento will be a plus for them.
Retail is often a huge base of products, customers or orders. Magento is scalable and optimal to always provide smoothness and stability.
Omnichannel support
Omnichannel is the key phrase of the last few years in electronic sales.
Customers need a consistent purchasing experience. No one is surprised anymore by online shopping, off-line returns and the use of a common discount policy. This applies to both the B2C and B2B segments. If you want to be competitive, you need to provide this experience.
Implementation of Magento 2 will allow you to build such a sales ecosystem in your company that will ensure smooth data exchange and centralised customer service. In this way you will join the leaders in your market.
How can we help you?
Do you need professionals for your project? Drop us a message.
We will definitely reply!
You can also send us an e-mail or call::