Advertising without guessing
Always Up-To-Date Guide of Social Media Graphic Sizes
An effective social media strategy needs a beautiful design. Thanks to the e-book you will ensure that your graphics are always perfectly cropped and effectively advertise your offer.
Download free e-book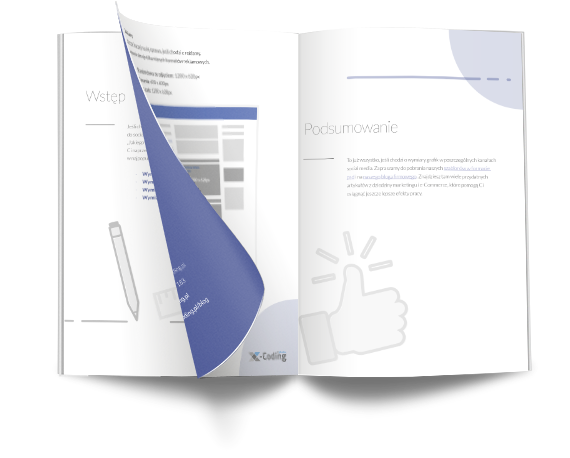 Always Up-To-Date Guide of Social Media Graphic Sizes
We update the recommended sizes of graphics regularly. Thanks to this, you will always have the most up-to-date specifications when downloading the e-book. Inside you will find sizes for:
Facebook
We present required sizes for the most important elements: fanpage, groups, events, ads. Inside the e-book you will find the location and sizes for example:
Profile and Cover Photo,
Cover Photo of Facebook events,
Standard Ad,
Carousel Ad,
… and more, that will be useful in your daily work.
LinkedIn
More and more companies start using LinkedIn to promote their services. We have prepared guidelines for, among others:
Cover and Profile Photo,
Shared Photo,
Ads.
Twitter
Twitter is a niche reserved for a specific target group. If you're promoting yourself in this channel, you'll need to know sizes of:
Avatar/Profile Photo,
Cover Photo,
Graphics in a tweet.
Instagram
To ensure that your selfies will never be cropped, see what sizes are used for:
InstaStories,
Vertical and Horizontal Photos,
Videos.
"But I don't need the e-book!"
Um… you don't want the e-book. No problem! You can add our articles to your tabs and always have fast access to our up-to-date guides!
Get your free copy
Fill the form and we'll send a free copy directly to your inbox